Photo courtesy of San Francisco Parks Alliance
Winter is one of our favorite times of year in San Francisco because while much of the country is either shoveling snow or snuggling under blankets in front of the television, it's still warm enough for us to spend our days taking advantage of great restaurants, neighborhood dives, renowned museums, and all of the other things that make us love our city. Plus, there's a bunch of fun wintery things to do, including local festivals, glowing art exhibits, amazing stage productions, and more.
Keep reading for all of the fun stuff to do in San Francisco this winter, and for more ideas of how to live your best life, check out our date ideas and weekend guide.
The FRIENDS Experience
Now through Monday, January 2
$$
Union Square
Whether you watched the antics of Monica, Rachel, Phoebe, Chandler, Joey, and (ugh) Ross the first time around or found the show later on via reruns, if you're a fan of the Friends sitcom, you'll want to check out "The FRIENDS Experience: The One in San Francisco," a cheesy, but fun, immersive museum experience, complete with set replicas of Central Perk, Monica and Rachel's apartment, and the famous couch in front of the fountain from the show's opening credits (albeit without any actual water). You can sit on the La-Z-Boys in Joey and Chandler's apartment, learn about the costume designer's job (and just how many outfits she had to create for one of the '80s flashback episodes), "poke" Ugly Naked Guy, see all kinds of props (Hugsy is making a real comeback), read Rachel's entire letter to Ross (18 pages, front and back!), hunt for Easter eggs throughout, and more. It's all a little silly, but also comforting. Plus, could there be any more Instagrammable opportunities? No, no there could not.
Union Square Ice Rink
Discover all kinds of ways to get in the holiday spirit
Ongoing through January
Free to $$
Various locations
With the imminent arrival of Santa Claus comes endless ways to get into the holiday spirit.
Lace up for The Safeway Holiday Rink in Union Square, which offers daily outdoor skate sessions under the Union Square Christmas Tree through Monday, January 16.
Eat, drink, and shop your way through Victorian London at The Great Dickens Christmas Fair & Victorian Holiday Party, which runs through Sunday, December 18, featuring an immersive world of music halls, theaters, pubs, and ye olde shoppes at the Cow Palace where you can chat with chimney sweeps, and get tipsy on absinthe.
Root for Scrooge to see the error of his ways (for the first time in three years!) at A.C.T's always-delightful performance of A Christmas Carol, which runs through Saturday, December 24, and features a cast of two dozen in gorgeous costumes and a reminder of what the holiday spirit is all about.
Thrillist TV
Wine and Cheeseburger
Wine and Cheeseburger: Harley and Lara Pair Falafel with Wine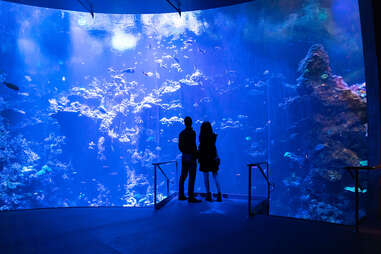 Photo courtesy of the California Academy of Sciences
Dance and drink at adults-only parties at two of SF's most fun museums
Ongoing on Thursday nights
$$
Exploratorium/Embarcadero and California Academy of Sciences/Golden Gate Park
If you like the idea of going to a museum, but would like it a lot more if it involved DJs and drinking, you're in luck because two of SF's best museums host Thursday night parties exclusively for adults. Check out After Dark at the Exploratorium, where you don't have to politely wait for the kids to finish to try out the hands-on exhibits, and NightLife at the California Academy of Sciences, where you can explore the four-story rainforest, sip cocktails in the aquarium, and catch a show at the planetarium.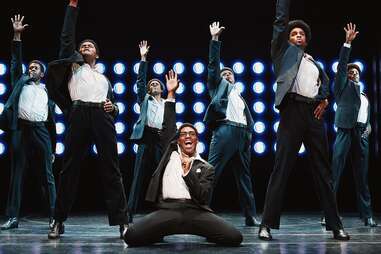 Ain't Too Proud Musical | BroadwaySF
Ongoing through December
$$ to $$$
Golden Gate Theater, Orpheum Theater, New Conservatory Theatre Center,
If you love plays and musicals, you're going to be very excited about what's happening on stage in SF this winter.
At Marin Theatre Company, you can see August Wilson's Two Trains Running, his seventh of 10 plays in the American Century Cycle that chronicles the African American experience in the 20th Century. This one is about a restaurant owner and his regular customers in 1969 Pittsburgh as they face a changing neighborhood and the struggles that come with it (through Sunday, December 18).
BroadwaySF has something for everyone, including a dazzling production of Disney's Frozen, which is definitely not just for kids (through Friday, December 30); an irreverent and fun musical production of Beetlejuice which will delight fans of the original Tim Burton film and create many new ones in its wake (through Saturday, December 31); R.E.S.P.E.C.T, a two-night only celebration of the music of Aretha Franklin (Friday, January 6-Saturday, January 7); the return of Dear Evan Hansen, a moving Tony award-winning musical about a teenager with social anxiety and depression who benefits by turning a tragedy into a lie all while affirming the belief that there is room for everyone to feel loved and accepted (Tuesday, January 24-Sunday, February 19); and Mean Girls, a hit musical based on the movie with a book written by Tina Fey, so you know it's actually funny (Tuesday, January 31-Sunday, February 26).
The New Conservatory Theatre Center (NCTC) is bringing holiday joy with Oy Vey in a Manger, a "bawdy and blasphemous" musical featuring the Kinsey Sicks, a Dragapella® Beautyshop Quartet (through Saturday, December 31), and then starts the new year with Getting There, a story about two friends who travel to Paris and have a falling out that sends them on separate journeys that change everyone involved forever (Friday, January 20-Thursday, February 26).
Berkeley Rep brings us a reimagined Wuthering Heights, a music- and dance-infused adaptation of Emily Bronte's gothic tome (through Sunday, January 1). And if tragedies aren't your jam, you're in luck because they're following it up with Clyde's, a Tony award-nominated, feel-good comic drama about a "formerly incarcerated kitchen staff at a truck-stop sandwich shop attempting to rebuild their lives" (Friday, January 20-Thursday, February 26).
Friday, January 20–Sunday, February 5
$$
Various locations
SF Sketchfest returns for its 20th year this January with a star-studded lineup and a chance to see well-known comedians, up-and-comers, and local performers in a bunch of intimate venues, like the Castro Theatre, PianoFight, and Swedish American Hall. Whether you enjoy sketch, stand-up, alternative comedy, music, improv, films, tributes, all-star reunions, live podcasts, or panel discussions, there's a show you'll want to snag tix for. Performers include Christopher Guest, Eugene Levy, David Cross, Cheech and Chong, Joel Kim Booster, and more. Shows are already selling out, so don't sleep on this!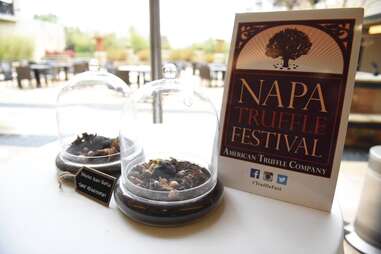 Napa Truffle Festival
Sip wine, drink beer, watch movies, eat good food, and more at local festivals
January and February 2023
Various locations
$ to $$$
When in doubt, there is always fun to be had at SF's plethora of festivals. This January brings the Zinfandel Experience, with three days of wine and food, including a fancy opening night dinner, seminars, and a grand tasting (Thursday, January 26-Saturday, January 28); Bay Area Brew Fest, which is returning to Fort Mason after a three-year hiatus with over 50 breweries, hundreds of beers, food trucks, DJs, and more (Saturday, January 28); Noir City Film Festival, 10 days of film noir and rare films (Friday, January 20-Sunday, 29); the Napa Truffle Festival, where you can learn about and eat truffles in seminars, lunches and more (Friday, January 13-Monday, 16); Winter WINEland in Sonoma, two days of discovering and enjoying over 70 of Sonoma's best wineries (Saturday, January 14-Sunday, January 15); SF Indie Fest, 11 days of indie movies (Friday, February 3-Monday, February 13); and SF Beer Week, when you can spend the entire week going to all kinds of beer-specific activities, including tastings, comedy shows, talks, and more (Friday, February 10-Sunday, February, 19).
Monday, February 20–Sunday, February 26
$$
Various locations
Noise Pop Festival is coming in big this year in honor of its 30th anniversary and is bringing indie artists from around the world to SF for a week of concerts, art shows, film screenings, happy hours, and after-hours parties. Phase I artists include Yo La Tengo, Boy Harsher, Duster, STRFKR, FIDLAR, Bob Mould (solo electric set), Covet, Tourist, Mareux, No Vacation, and so many more. They'll be playing at venues like the G American Music Hall, Bottom of the Hill, The Chapel, Rickshaw Stop, The Regency Ballroom, August Hall, The New Parish, Gray Area, and Public Works.
San Francisco Parks Alliance
Now through Sunday, March 12
Peacock Meadow, Golden Gate Park
Free
Returning for its third year, "Entwined" is an immersive forest of illuminated color in Peacock Meadow (just east of the Conservatory of Flowers). LED light sculptures fill the space to create twisting paths among flowering clusters and trees that shift colors and light. There are a few new installations this year, including a "Fallen Tree" seating area and "sapling" trees with "hidden world tree knots."
Mission Bowling Club
Score strikes and good grub at a bowling alley
Ongoing
$$
Presidio and Mission
Whether you want classic bowling or a fine-dining lane-side experience, SF has you covered. Presidio Bowl has 12 lanes, an internet jukebox, 45 beers, 19 wines, a full bar, and a pretty typical bowling alley menu. Mission Bowling Club is a little fancier with legit food (including a great burger) and cocktails, but only six lanes, so you'll definitely need to plan ahead.
Photo by Alexandre Galliez
Ongoing through July
$$
Club Fugazi/North Beach
San Francisco could use a little love right now, and it gets more than a little during "Dear San Francisco: A High-Flying Love Story," an immersive performance/homage to this wild town told via how-do-they-do-that acrobatics, including hoop diving, Chinese pole, juggling, spoken word, video projections, shadow play, and original music. And though those things might sound like they're for kids, this show is definitely more adult-friendly, especially if you order a bottle of wine and some fancy grown-up snacks and desserts to enjoy while you watch. Even if you've already seen the show, the performers—and the feats they perform—change, making this a show you can definitely see more than once.
Thriller Social Club SF
Play old school video games at a grown-up barcade
Ongoing
$
Various locations
Whatever your game—Ms. Pac-Man, Mortal Kombat, pinball, pop-a-shot, or skee ball—you'll likely find it at one of SF's grown-up barcades. The newest one to open—Thriller Social Club in the Mission, is two stories of fun with all of the classics, including eight skee ball lanes, the most expensive golf simulator in the world, a couple of bars, and legit food—looking at you 13-inch hot dog. If you're near Divisadero, check out Emporium, a huge bi-level movie-theater-turned-arcade, which also has pool tables, foosball, air hockey, and DJs spinning on the weekends. And on Market Street in the Castro, there's The Detour, a cozier bar but still stocked with all of the greatest hits, plus lots of board games, Asian-inspired snacks, trivia nights, drag bingo, and more.
Ongoing
$ to $$
Embarcadero
The historic Ferry Building is pretty to look at, but, more importantly, behind those good looks is a fantastic personality in the form of delicious artisan food, including Señor Sisig's newest location, and Grande Crêperie, a concept from Le Marais Bakery that's all about savory and sweet crêpes and artisanal all-butter croissants and pastries. Eat lunch by the water at Hog Island Oyster Company or get a delicious burger and milkshake on Gott's Roadside's patio. Grab a canned cocktail at Ferry Plaza Wine Merchant and a cupcake from Miette to enjoy while sitting on a bench with views of the Bay Bridge. Buy bagels for tomorrow's breakfast at Daily Driver. The beloved farmers market is still popping up on Tuesdays, Thursdays, and Saturdays, so you can also shop for high-quality products from small, sustainable growers and producers who will appreciate your support.
Ongoing
Free
Golden Gate Park
Thanks to the voters of San Francisco, John F. Kennedy Drive in Golden Gate Park will now be permanently car-free. Take advantage of the fact that you can walk, run, bike, skip, pogo stick, and more in the middle of the street all winter. Don't forget to check out "Paint the Promenade," an ongoing installation from Paint the Void, a non-profit that "brings creativity to everyday urban spaces while supporting local artists." The installation includes the beloved Doggie Diner heads along JFK Drive between Conservatory Drive West and 6th Avenues, 100 (comfy!) chairs set up for relaxing, two pianos that anyone can play, and more.
Free
Bayview to Outer Richmond
Put on your most comfortable sneakers and head out on the Crosstown Trail, a 17-mile urban hike that takes you through tons of SF neighborhoods, including McLaren Park, Glen Canyon, Golden Gate Park, and Seacliff. The trail is a mix of paved roads/paths and trails, is about 2,600 feet of elevation, and offers great views, cool tiled staircases, a chance to see SF in a whole new way, and satisfaction for having actually done it. 
$
Mission Bay
Learn the story of California's Boom and Bust by playing miniature golf at SF's only outdoor miniature golf course. Put the ball into a Barbary Coast Saloon, through a gold mine, and around "Golden Gate Park," while reading cool factoids along the way. To help maintain a safe environment, you'll have to make a reservation, which involves a little planning, but is definitely worth it. Especially because the course is also located within Parklab Gardens (a food truck park and beer garden) so you can celebrate your win (or lament your defeat) with some tasty treats and a cold one.
San Francisco Botanical Garden
Ongoing
Free for SF residents
Golden Gate Park
This 55-acre urban oasis with more than 9,000 plants from around the world is always a great place to go for a mini escape. Pack a picnic to enjoy on the grounds or wander through the gardens and visit flora from Australia, Chile, South Africa, and more, all in one afternoon. You'll just have to pop open a plant app to see what you're enjoying since we aren't exactly certified botanists.
Want more Thrillist? Follow us on Instagram, Twitter, Pinterest, YouTube, TikTok, and Snapchat.
Daisy Barringer is an SF-based freelancer who has not yet recovered from the Niners NFC Championship loss. Follow her on Twitter to hear her rant and rave every Sunday (and some Thursday and Mondays) now through January.