Chimney Sweep
From the 'Slutcracker' to 'The Nutcracker,' a information to vacation dance and theater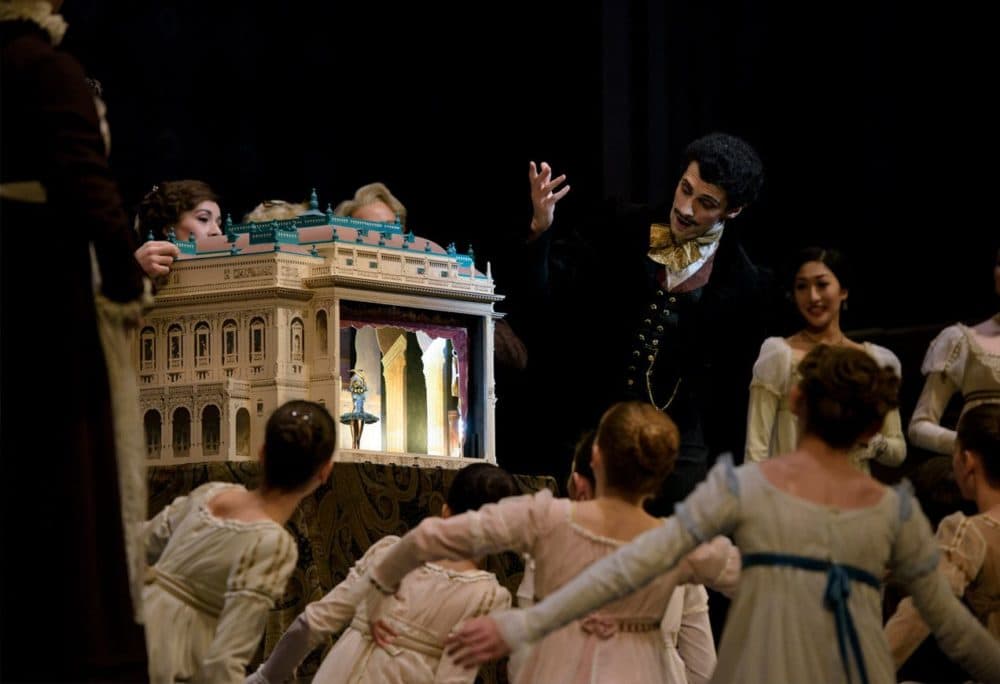 Just as the last scraps of turkey are turned into sandwiches, and the Christmas lights twinkle by night on Boston Common, the theaters begin to glow with images of holiday cheer wrapped up in music and dance. A listing of performances—traditional or new, sacred or not—are offered below for your enjoyment.
And while you're out, people-watching is another part of a holiday trip to the theater—especially the sight of the little girls dressed up in their best finery. I hope you see one or more of them wearing their own pink tutus, to match the Sugar Plum fairy on stage. Whatever your pleasure, don't forget to bring candy canes for intermission, and take time for hot chocolate before returning home.
'The Nutcracker'
Anthony Williams' "Urban Nutcracker" is in its 21st year. (Courtesy City Ballet of Boston)
If you are lucky enough to have a child making a stage debut as a mouse or a reindeer, or cherish memories of being the same, no doubt you are humming melodies from Tchaikovsky's score for "The Nutcracker." The 19th-century ballet by Lev Ivanov and Marius Petipa is based on ETA Hoffman's novella about the young girl, Clara, who leaves her family on Christmas Eve (but returns safely home again) to travel the world on an adventure.
First brought to the USA (in part) by Anna Pavlova in 1915, finally presented in full-length by San Francisco Ballet in 1944, the 1954 production for the New York City Ballet, re-created by George Balanchine, became the granddaddy to hundreds of showings over the decades that have followed. Boston Ballet founder E. Virginia Williams created the local tradition in 1965 for her fledgling company, starring soloists borrowed from NYCB, and an orchestra led by Arthur Fiedler. Our list includes some, but not all, of the many New England productions.
Mikko Nissinen's 'The Nutcracker'
Boston Ballet | Opera House (Nov. 25-Dec.31)
Boston Ballet's production of "The Nutcracker" features 50-plus company members with apprentices, hundreds of children from the Boston Ballet school, and more than 350 costumes and sumptuous sets designed by Robert Perdziola. The breathtaking production is performed to Tchaikovsky's full score performed by the Boston Ballet Orchestra, led by Mischa Santora. And yes, the tree does grow, the snow does fall, and the flowers waft beautifully in their second act Waltz.
Anthony Williams' 'Urban Nutcracker'
City Ballet of Boston | Boch Center Shubert Theater (Dec. 17-23)
Directed by Anthony Williams, a founding member of the Boston Ballet, and performer in the early productions. Now in its 21st year, Williams has re-imagined his "Urban Nutcracker" in Boston's landscape. Tchaikovsky's music, as interpreted by Duke Ellington, will be performed live. The movement ranges from ballet to hip-hop, tap and doo-wop, delivered by a large cast of children, local performers and professional dancers. "Anthony Williams' Urban Nutcracker" will be broadcast on public television, with a documentary, "Beyond the Stage: The Urban Nutcracker, Community and the Arts" starting Nov. 25. (For those in Greater Boston, GBH 44 will air the program on Dec. 17 at 8 pm)
More opportunities to see 'The Nutcracker' beyond Boston:
Beyond Massachusetts:
Festival Ballet | Veterans Memorial Auditorium, Providence, Rhode Island (Dec. 16-24)
Island Moving Company's "Newport Nutcracker" | Rosecliff Mansion, Newport, Rhode Island (Nov. 23-Dec. 2)
Maine State Ballet | Merrill Auditorium, Portland, Maine (Nov. 25-Dec. 4)
Portland Ballet's "A Victorian Nutcracker" | Sanford Performing Arts Center, Sanford, Maine (Dec. 10); Westbrook Performing Arts Center, Westbrook, Maine (Dec. 17-18); and Merrill Auditorium, Portland, Maine (Dec. 22-23)
And for another slant:
'A Christmas Carol'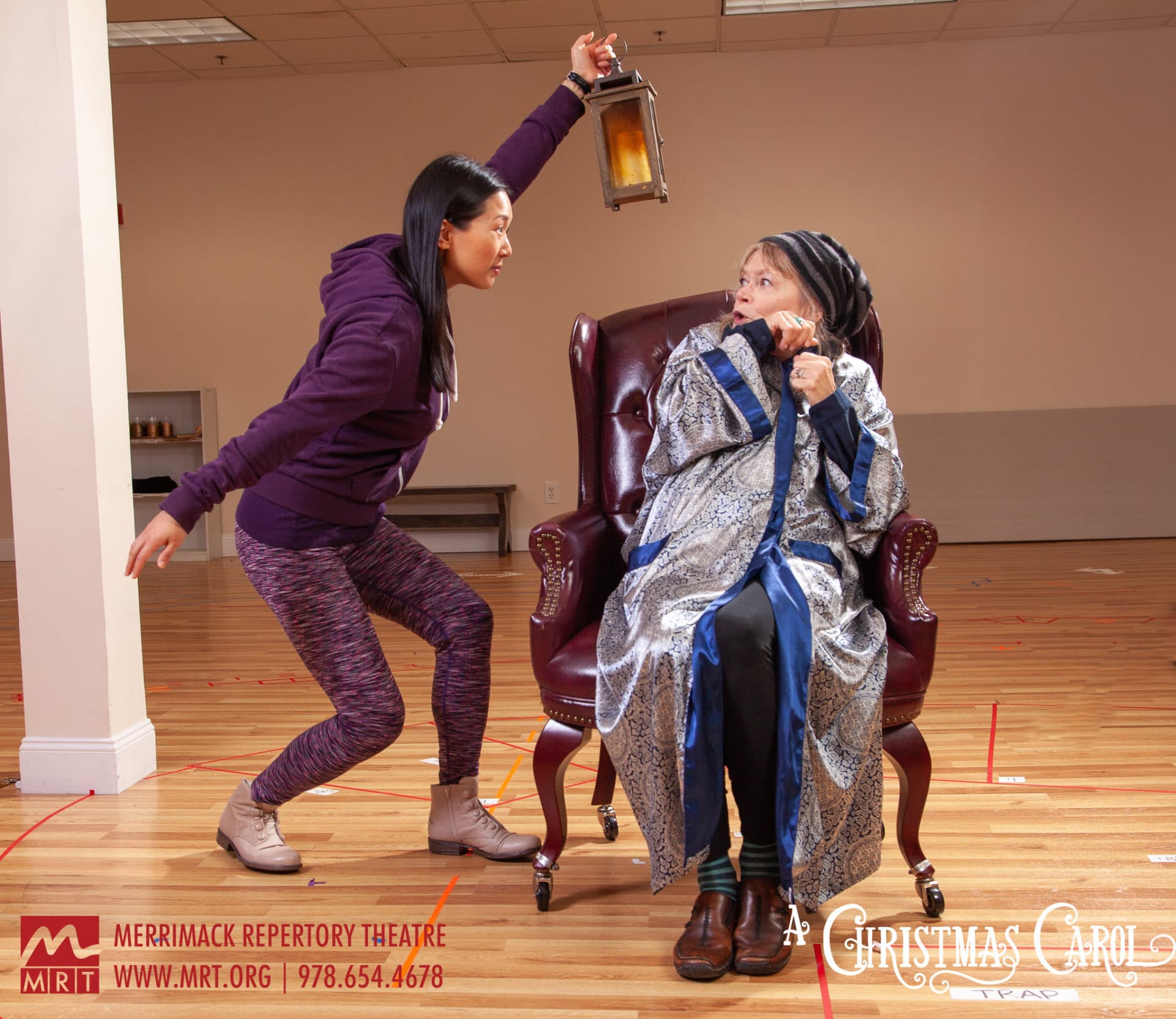 Rehearsal photo for Merrimack Repertory Theater's production of "A Christmas Carol." (Courtesy Meghan Moore)
The many stage versions of "A Christmas Carol" harken back to 19th-century Boston when Charles Dickens read portions of "A Christmas Carol" to a "large, enthusiastic" audience at Boston's Tremont Temple on Dec. 2, 1867. A few of the contemporary productions are listed below:
Merrimack Repertory Theatre
Lowell (Nov. 30-Dec. 24)
Karen MacDonald plays both Charles Dickens and Ebenezer Scrooge, in this world premiere with a local twist The show opens in Lowell in 1842, a reminder of Dickens' first American visit when he famously toured the city's textile mills.
North Shore Music Theatre
Beverly (Dec. 1-23)
David Coffee will play Scrooge for the 28th time in the North Shore Music Theatre's 31st annual production of "A Christmas Carol: a musical ghost story."
The Hanover Theatre
Worcester (Dec. 17-23)
The Hanover Theater and Conservatory website claims the title, "New England's largest production of Charles Dickens' 'A Christmas Carol.'"
Trinity Repertory Company
Providence, Rhode Island (Nov. 4-Jan. 1)
Shura Baryshnikov choreographed Trinity Rep's 46th annual production, directed by Aileen Wen McGroddy and starring Phyllis Kay as Scrooge.
And for more holiday spectaculars: