Moving
Mark Cavagnero Associates Slathers Sunscreen on a San Francisco Medical Constructing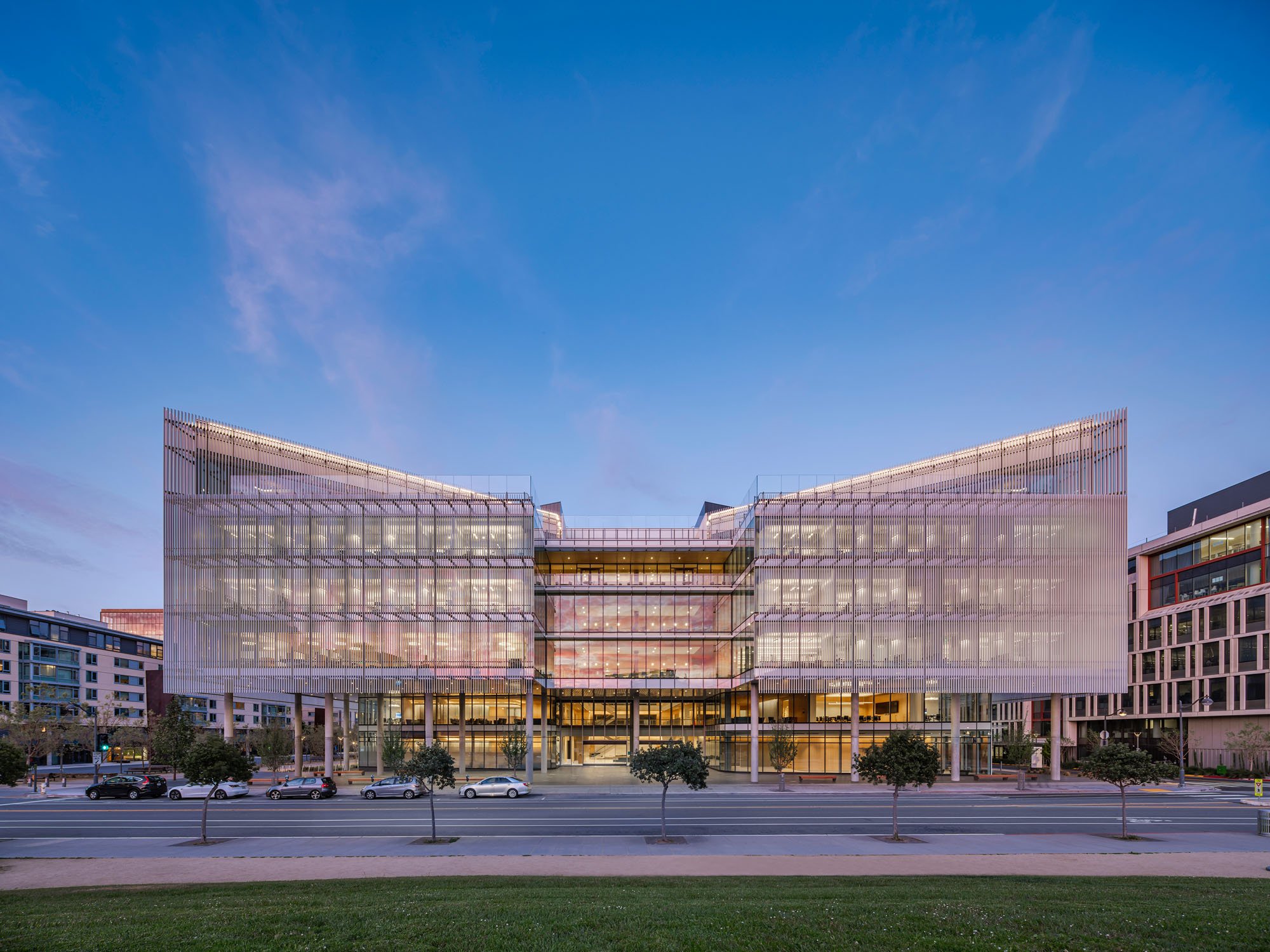 The building may appear opaque or translucent depending on how the screen's louvers align with your viewing angle. COURTESY OF KYLE JEFFERS
The six-story building would not just be a workplace, but a treatment center treating 60,000 patients annually – one of the first facilities of its kind to combine neuroscience research and outpatient care under one roof. Aiming to create a hopeful environment for patients and scientists alike, he developed a conceptual design that was all about light: a glass box with a central atrium.
The key to the concept was a filigree brise soleil that shades the glass facade and diffuses the light. This aluminum screen allowed the architects to strip back the low-e coating on the glass, giving it greater transparency and less color distortion than the tinted glass found in countless office buildings. Cavagnero notes that this approach is a throwback to early modernism, when buildings had to do more and HVAC systems less to mitigate heat; he was inspired by past companies like MMM Roberto and Olgyay and Olgyay. "Unfortunately, being made of concrete, many of these screens were cumbersome and obscured the view. We wanted to create something with great openness and sophistication that expresses the precision science in the building," he says. According to the company, the screen, made of 1-inch thick louvers spaced 7 inches apart, outperforms standard solar tint; The combination of glass and screen was also inexpensive to construct.
COURTESY OF TIM GRIFFITH
In contrast, the interior design focuses on the warmth of wood: Sycamore, chosen for its rich color and visible grain, is used throughout for wall and ceiling paneling. Patients and researchers face the open plan area of ​​UCSF's main building, which is directly to the west. A long balcony on the fifth floor offers an expansive view of the park. This view is also shared by the event rooms on the top floor, which offer the university a compelling place to connect with industry partners and peer institutions.
The scientists began moving early last year and the feedback has been overwhelmingly positive, says Dr. Stephen Hauser, director of the UCSF Weill Institute for Neurosciences. "What the architects have achieved with the outer wall is simply spectacular," he says. "The building makes full use of the available light throughout the day and the interior environment is balanced, comfortable and quiet."