Home services
Persons are paying $1,000 to work at Nisei in San Francisco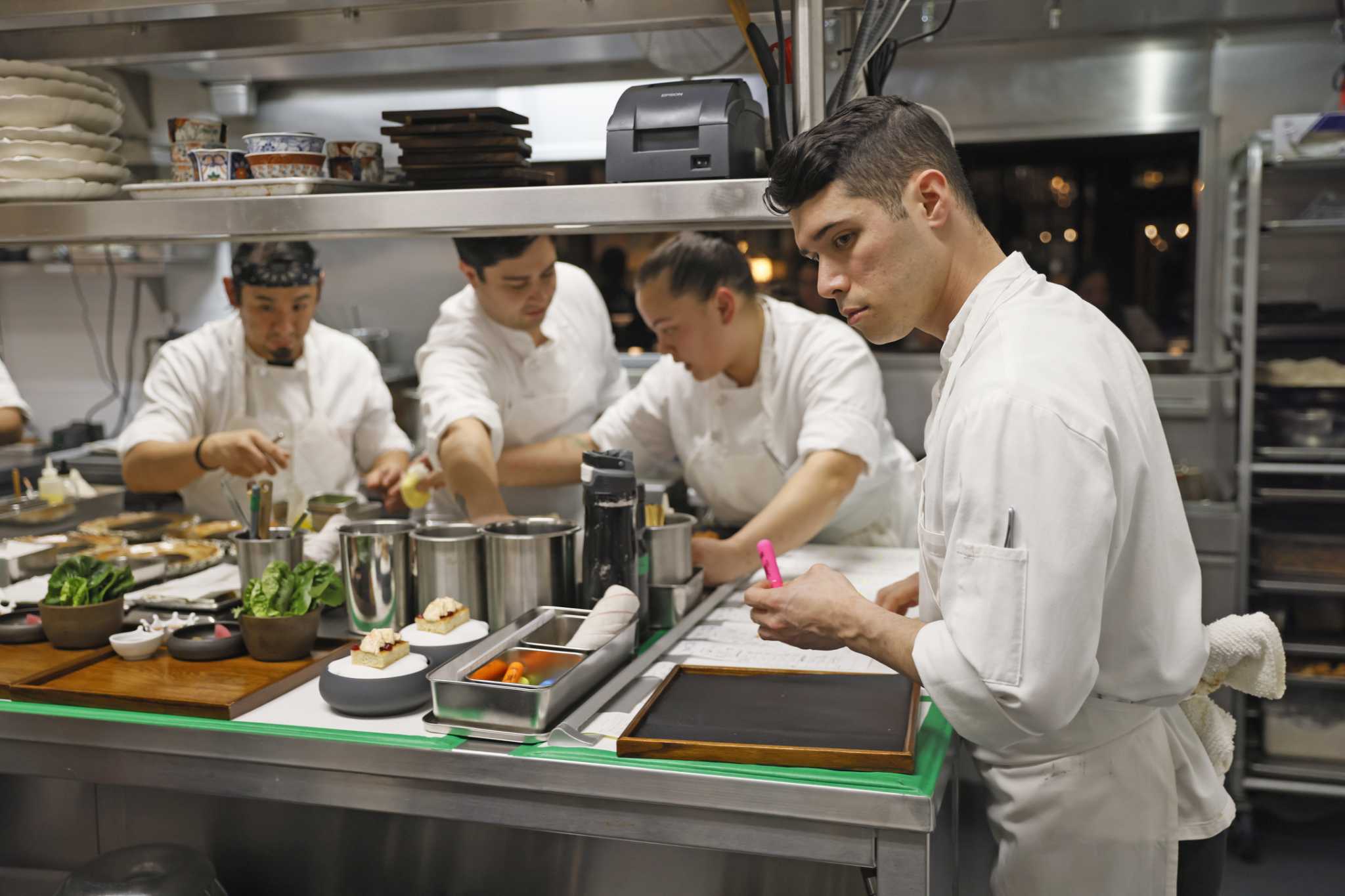 A few months ago, I came across a curious listing for a restaurant experience where you pay to spend a day in the life of a chef.
The chef is David Yoshimura of Nisei, the fine dining Japanese restaurant in Russian Hill. I'll admit, at first I thought the idea was pretty hilarious, charging customers $775, or $1,012 with tax and gratuity, for what seemed like a chef influencer event, glamorizing and overcharging for a peek at how the restaurant sausage is made. The experience, available to just one customer each Saturday, consists of going to the farmers' market, then going back to the kitchen to prep and cook, and ends with an 11-course dinner.
Essentially, you're paying more than $1,000 to work a shift at a restaurant. Is this how rich people like to spend their money? I couldn't believe it.
Maybe I shouldn't have been shocked. In recent years, we've seen luxury dining experiences proliferate in San Francisco and the Bay Area, with "farm experiences" from restaurants like Quince and Avery as well as services like Ritual, an opulent supper club that flies in chefs from around the world for dinners that cost nearly $1,000 per person. Restaurants are tapping into their wealthiest clients with tiered experiences and high-end extras. Was the Nisei experience just that, some kind of savvy side hustle from an up-and-coming chef? A wild new wealth tax perhaps?
To my surprise, my editors thought it would be a good story if I reviewed the experience and tried to find out. I agree. Delighted by the oddness of it all, I booked it, excited to peek behind the curtain, to see how the complicated machinery of a restaurant works — and determine whether paying for the privilege of making my own dinner could possibly be worth the price tag.
But then it got complicated.
As I do at any other restaurant, I booked the reservation under an alias. Everything was set for my anonymous visit. I had my trusty Groucho Marx glasses ready, then I got an email from the restaurant.
They asked me to sign a non-disclosure agreement.
The ruse was over, my plans for writing about the experience were compromised. A review would be a clear violation of any nondisclosure agreement, and besides, I wasn't about to sign a fake name on a legal contract. I felt like I was in "Scooby Doo" and my mask was yanked off by those meddling kids.
Top: Chef David Yoshimura leads the kitchen at Nisei. Above: The San Francisco restaurant was bustling on a recent evening.
Santiago Mejia/The Chronicle
I was prepared to abandon the story altogether. But after some deliberation, I outed myself as a critic and came to an agreement with the restaurant: I'd pay to live a day in the life of a chef and be allowed to write about it, as long as I didn't divulge any recipes, secret techniques or other sensitive information.
But now, the story I had in mind had changed, because everyone would know my identity. It was like the chef and I were locked in a game of four-dimensional chess: not only would I spend a day in his shoes, but he would, essentially, spend a day in mine. The whole thing made my head spin.
On a rainy morning in December, I met Yoshimura at the Ferry Plaza Farmers Market. Earlier that week (long after I'd booked my visit), his restaurant, which opened in 2021, had been awarded a Michelin star and he'd received the restaurant guide's Young Chef Award. When vendors, chefs and other restaurant folks congratulated him, he smiled graciously and said thank you. I got the sense that the praise made him a little uncomfortable.
We talked about his bringing up in Houston, where he started cooking at a steakhouse before working in New York kitchens and then eventually the Bay Area. He cut his teeth here at fine dining Mexican restaurant Californios — he was the chef de cuisine there when that restaurant was awarded Michelin stars. "It feels more personal when it's my food," he said, about winning a star of his own.
We proceeded to buy turnips, persimmons and decorative pine branches. Then we packed up his car and headed to the restaurant. He gathered the staff of 10 or so for a meeting; some were wearing beanies, others bandanas. Yoshimura said there'd be a packed house that night — the Michelin buzz had already translated to more reservations.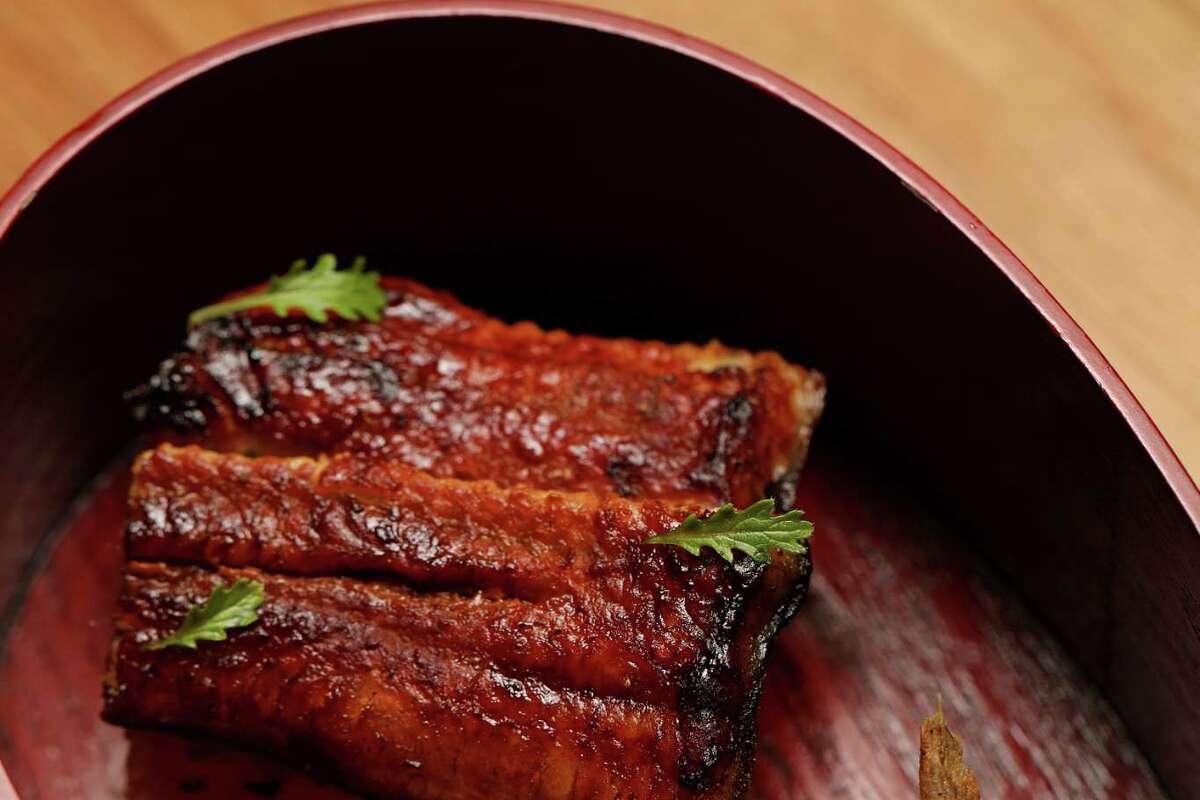 Grilled unagi and fried unagi bone at Nisei in San Francisco, Calif., Thursday, Dec. 29, 2022.
Santiago Mejia/The Chronicle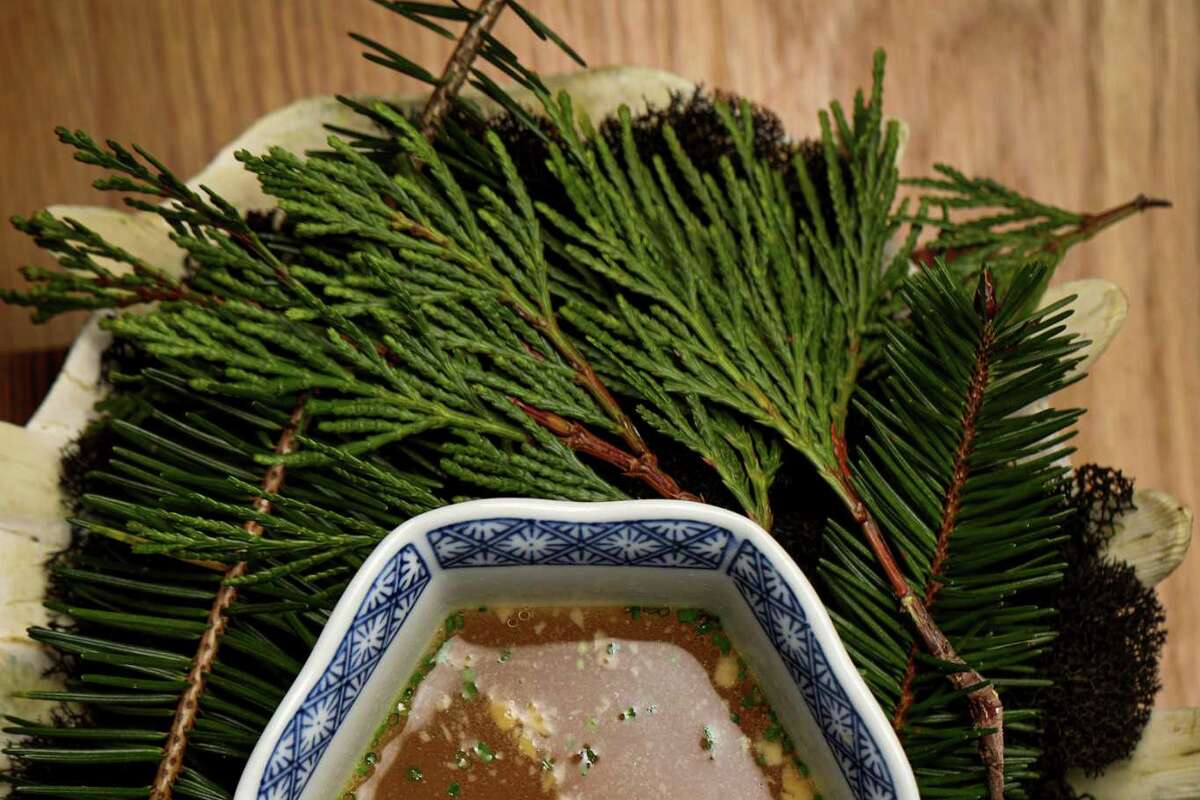 The suppon at Nisei in San Francisco, Calif., Thursday, Dec. 29, 2022.
Santiago Mejia/The Chronicle
Grilled unagi over rice (left) was the best dish during a recent meal at Nisei, while suppon (right), a turtle soup, was the only miss. Santiago Mejia / The Chronicle
The staff all greeted me warmly, but I really didn't know what to expect. I like they were observing me, too.
I wondered: How much of this experience would be real? It didn't feel unlike the theatrics of hospitality, where everything is calculated to give customers the best possible experience. This so-called day-in-the-life felt like an extension of that service, the idea of ​​an open kitchen taken to its logical extreme.
No longer shielded by anonymity, I also felt more exposed than I ever had as a critic. I was keenly aware of that remove between chef and restaurant critic, an inherent binary often caricatured as adversarial. Did these chiefs think of me as a wolf in sheep's clothing?
That all melted away once I stepped in the kitchen. Yoshimura gave me a choice: follow him around while he did administrative tasks and planning, which he described as "boring," or bounce around for a more complete picture. I chose the latter — I, after all, was performing too. I felt like I had to show them I was down to get my hands dirty, even as I worried they might make fun of my poor knife skills. (Yoshimura told me one past guest was appalled she had to work.)
From noon until 5 pm, the beginning of service, the kitchen focused on prep. I started with weighing flour and sugar for blinis, flambéing bananas on a stovetop and chopping pickles. Then I assisted with descaling anchovies with a knife. At the pastry station, I molded nerikiri (a semi-sweet white bean dessert) with my fingers and pressed them with a wood block to make them look like a sakura flower. I sliced ​​miso-marinated garlic, doing my best impression of Paulie from "Goodfellas." I squeezed out dots of sauces, gingerly added leaf garnishes and portioned pickles on ceramic plates — ensuring each received the same amounts.
While we worked, I got to know the staff: where they're from, what kind of music they like, their histories. It's hard not to be endedared to a cast of characters when you share laughs and conversation, the same way you build rapport with any work family. We even shared a family meal: Yoshimura and sous chef Nicholas Razatos made excellent fried chicken.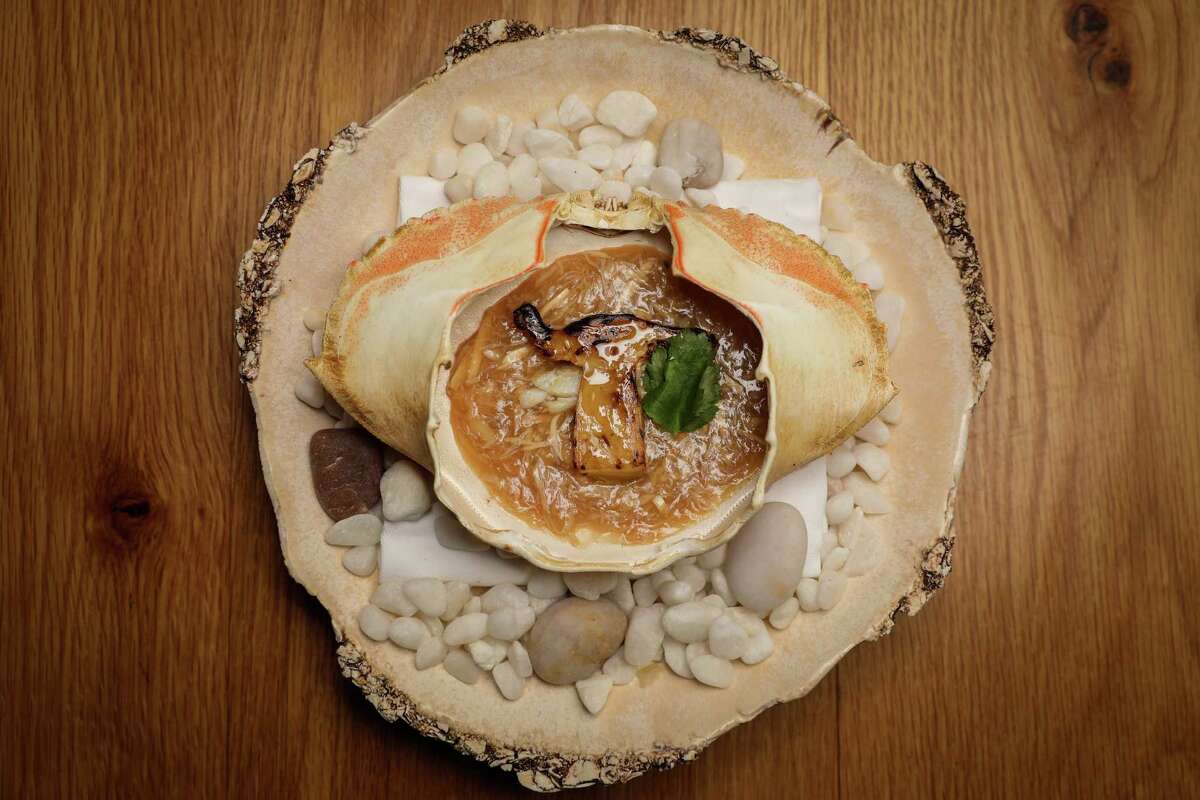 The Dungeness crab course is served inside a crab shell at Nisei in San Francisco.
Santiago Mejia/The Chronicle
By then, my concern about gauging the authenticity of my experience had evaporated. I came away with the belief that enough of it was real — or at least felt real. It's the same way a theater production requires real people to put on a show. I suspended my disbelief and became a part of the Nisei show. That was especially true once service started. It was as if a switch had flipped. It was go time.
I tried my best to stay out of everyone's way. The change in the room was palpable, the staff acutely focused on the task at hand. Watching the kitchen spring into action, living and breathing in unison, gave me clarity about fine dining restaurants that I simply did not have before. The team communicated briskly, their focus sharpened. The imperative of providing exceptional hospitality was much clearer.
At 6:30 p.m. sharp, general manager Ian Cobb, a staunchly serious man, informed me that my seat at Bar Iris, the sister bar to the restaurant, was ready. I went upstairs, shed my kitchen costume and got ready for dinner.
After tasting a few cocktails at the bar, it was showtime: I got a prime seat right in front of the kitchen window.
The first four bites arrived in a flash. I quickly spotted a dish with the anchovies I had aided in descaling: a crisp burst of aquatic umami inside dehydrated nori. It was followed by tangy, nukazuke-fermented persimmons. Shortly thereafter, chef Yoshimura, armed with a pointed smile, dropped off a blini with creamy, flambéed banana puree and a tiny quenelle of caviar. The morsel of sweetness and saltiness effortlessly lilted across my tastebuds — one of the most memorable bites of the night.
Dishes that followed included a toasted milk bread spread with gamey, creamy milkfish pate; the pucker of a garnish of cranberries scaled back the richness. A stew-like Dungeness crab dish thickened with stock admirably preserved the lightness of the crustacean. Crispy, juicy squab katsu rested in an oil spill of black curry. The only real disappointment: a turtle soup with distractingly tough meat and muscular mochi.
Throughout the meal, the staff would check on me. Some nodded knowingly, as if we shared a secret.
All other dishes folded to the might of the main event: the unagi over rice. The portion is smaller than a traditional donburi but just as sharp, smoky and flavorful. The fillet had been slowly charcoal-grilled, rendering the fat out of the skin until it was airy and crisp. It came with a piece of edible, dehydrated and fried unagi spine, spicy grated daikon, and sliced ​​miso-garlic — some of the ingredients I'd had a hand in preparing.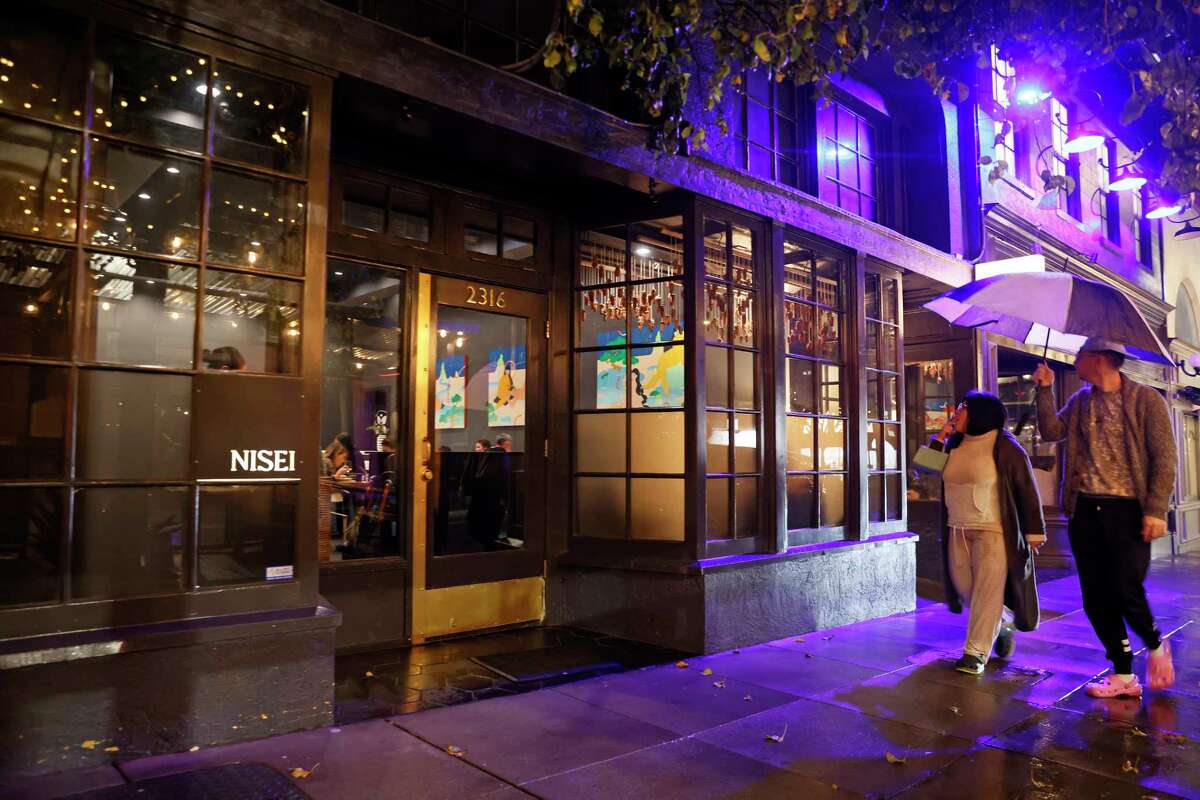 Nisei is located on Polk Street, with Bar Nisei drawing in customers for cocktails next door.
Santiago Mejia/The Chronicle
The eel embodied the principles of Washoku cooking, a philosophy translating to "harmony of food" that balances technique, tradition, taste and respect of food, but also expressed the nisei (second-generation Japanese) attitude of the restaurant. The melty eel is obviously grander than what you'd find at a typical Japanese restaurant, but preserves the satisfying, comforting barbecue spirit.
The unagi alone might have earned Nisei the Michelin star. I don't really subscribe to the star dogma, but if my time at the restaurant was an indicator, it surely deserves happy face stickers, checkmarks and any other made-up signifiers of quality.
Is it possible the unagi tasted even better because I'd just seen the kind of work that goes into it?
I'll never know for sure. Even though $1,000 is nothing to sneeze at, I concluded that the price was absolutely worth it.
Included are skills and techniques that are yours to keep; a few drinks from the bar; trying elements at every point before they make it on the plate; a family meal; and tracing ingredients from the vendor to the diner — a full-spectrum view of a fine dining restaurant.
Driving home, tired from a 12-hour shift, I came away with a new perspective and satisfaction that's rare even in the most pampering restaurant environments. The process forces wealthy people to appreciate the process of creating luxury; a once-in-a-lifetime dissection of the high-caliber kitchen organism. If we think of fine dining restaurants as producers of edible art, this immersive experience lets diners not only eat it, but make it, too.
nisei 5-9 pm Wednesday-Sunday. 2316 Polk St., San Francisco. 415-827-6898 or restaurantnisei.com
Cesar Hernandez is The San Francisco Chronicle's associate restaurant critic. Email: cesar.hernandez@sfchronicle.com Twitter: @cesarishafa