Moving
San Francisco Ballet's PROGRAM 1 at Warfare Memorial Opera Home Actually Leaps for Pleasure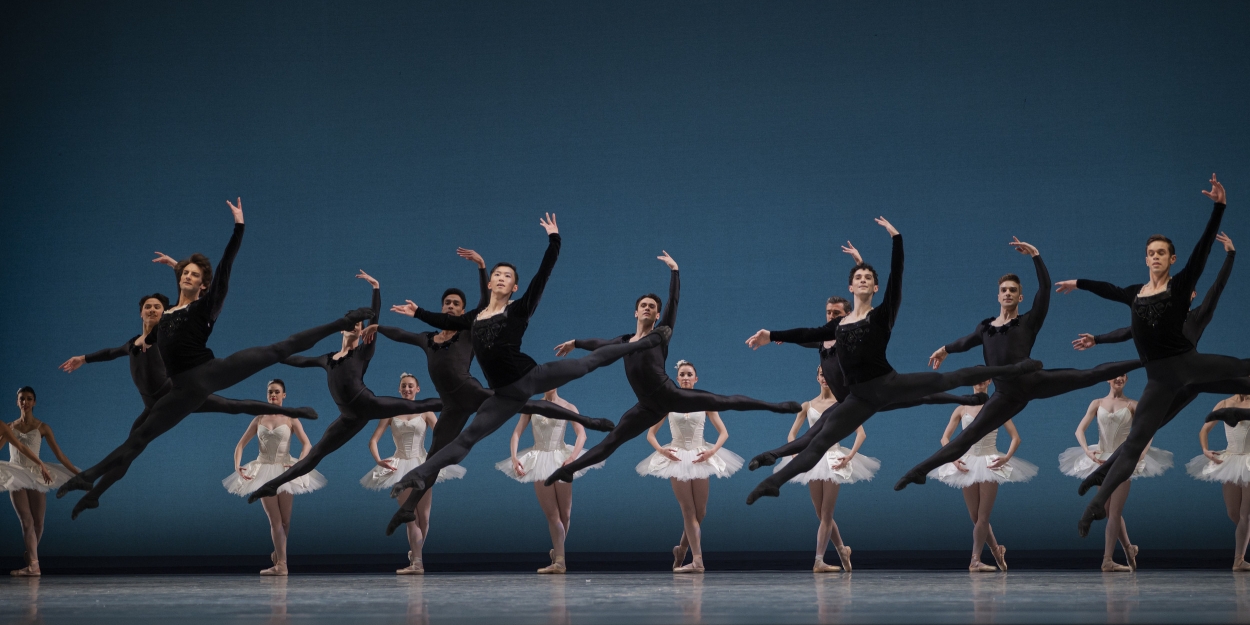 San Francisco Ballet is back – with a vengeance! The first program of their 2022 season concludes with arguably the most joyous 35 minutes of dance ever created, George Balanchine's neoclassical masterpiece Symphony in C. Set to Bizet's fizzy first symphony, composed when he was only 17, the entire ballet is a delight, but it reaches its apex in the final movement as dozens and dozens of dancers fill the stage, their stark white and black costumes standing in sharp relief against the sky-blue backdrop. As the dancers dive into the challenging choreography with gusto, it feels as if the stage erupts in a burst of fireworks. Yes, this is exactly what we've been missing for the past two years, this feeling of rapturous joy that simply cannot be transmitted via a video screen.Max Cauthorn and Sasha De Sola at San Francisco Ballet's
production of Helgi Tomasson's Trio
Program 1 opens with Trio, an attractive ballet by SFB's soon-to-retire Artistic Director, Helgi Tomasson, and it's what I would call a patented Tomasson piece – decent choreography set to gorgeous music with ample opportunity for terrific dancing. It's not the kind of ballet that's going to set the world on fire, or that you'll likely remember a year from now, but it is very pleasant to watch in the moment and shows off the depth of talent in this remarkable company. In this case, Tomasson has chosen Tchaikovsky's gorgeous Souvenir de Florence, which surprisingly wanders from Italy to Russia over the course of its four movements, the latter two combined into one (thus giving the ballet its name). A playful pas de deux opens the piece before giving way to a melancholic trio with undertones of a plot involving death conquering love, and the ballet concludes with a folk-dancy romp. Tomasson's movement is consistently attentive to the shifts in the music, even as he cribs from Balanchine along the way. But as they say – if you're going to steal, steal from the best.
(L to R) Daniel Deivison-Oliveira, Dores André and Luke Ingham in
San Francisco Ballet's production of Helgi Tomasson's Trio
The opening night cast was terrific top to bottom. Sasha De Sola and Max Cauthorn danced beautifully together in the first movement. She astonished with her spitfire turns and languorous balances, and he seemed perpetually airborne. Doris André, Luke Ingham and Daniel Deivison-Olivera made a nicely understated trio in the sorrowful second movement, letting the choreography speak for itself without piling on the pathos. Angelo Greco and Misa Kuranaga injected the finale with a spritz of playful energy that brought the ballet to a rousing close. And the corps de ballet of 10 dancers gave beautiful support to the principal dancers throughout, most notably the duo of Estéban Cuadrado and Mingxuan Wang, two dancers of different physiques and temperaments who somehow met in the middle through the perfectly matched elegance and lightness of their dancing.
Sarah Van Patten as the title character in Cathy Marston's Mrs. Robinson, flanked by the corps de ballet
The middle piece of the program was the much-anticipated world premiere of Cathy Marston's Mrs. Robinson, based on the source novel for the celebrated film The Graduate. Marston's fresh idea is to tell the well-known story from the perspective of the middle-aged title character. This sounded fascinating in concept, but in execution, not so much. Working closely with dramaturg Edward Kemp and composer Terry Davies, Marston knows how to tell a story through dance – this is not one of those narrative ballets that leaves the audience mystified as to what they have just seen – but she does not have a feel for devising distinctive movement that illuminates character. Yes, there are odd sparks of this along the way, like the way Benjamin's signature gesture of running his hand upwards over his face speaks to his discofiture in the world, but those moments are way too few and far between. Instead, we get multiple sequences of women in aprons miming household chores and falling to the floor. It's a choreographic notion about the stultifying life of a housewife, but it's not a novel or interesting one so it goes nowhere, even as it is repeated over and over again during the overlong ballet's 45-minute running time. Sure, we get the concept, but we don't feel it.
The central tries between Mrs. Robinson and Benjamin are equally lacking in imagination and, more problematically, real passion. There are some easy visual jokes about his awkwardness, including unfortunately broad allusions to his erection, but we never feel the couple's true connection. This ultimately robs Mrs. Robinson's emotional journey of any real impact. When she meets her unhappy end, it is mystifyingly abrupt and vaguely reminiscent of The Stepford Wives. What we really need is a culminating solo for Mrs. Robinson that delineates through movement her emotional state. Instead, we get a non-ending ending that leaves the audience perplexed.
Joseph Walsh as Benjamin Braddock and Sarah Van Patten
as the title character in Cathy Marston's Mrs. Robinson
Marston is not helped by her creative team. Patrick Kinmonth's costumes seem oddly stuck in the staid 1950's rather than the hip 1960's and his sets look cheap and ill-constructed, rather than spare and stylized as I presume was intended. The lighting design by the usually terrific Jim French only calls attention to those deficiencies. I even began to wonder if this was on purpose, that the point was to shine a light on the shoddiness of the society it depicted. On the plus side, the dancers in the huge cast of 36 uniformly danced with commitment and style. I felt badly for Sarah Van Patten and Joseph Walsh in the leading roles. They are two of SFB's most accomplished dancing actors and they complemented each other beautifully. Even with her beguiling opacity and his emotional transparency, though, hard as they tried they simply could not make their characters register for the audience. Oh how I would love to see them both dance a much better version of this same story!
After the low-key bewilderment of Mrs. Robinson, SFB came roaring back with the infinite glories of Symphony in C. Featuring an enormous cast of 52, including no less than four leading couples, there are simply too many moving parts for any ballet company to give a perfect performance of Symphony in C, but SFB gives it their considerable best. The corps women were stunningly light and crisp in the opening allegro movement, with a standout Julia Rowe in a demi-solo role. A playful yet regal Sasha De Sola and Aaron Robison, astonishing in the height of his jumps, led their ranks with dash and panache. The achingly gorgeous adagio second movement showed off just what Sarah Van Patten can do with a role worthy of her talents, as she alternated swoony melancholy in her pas de deux with Ulrik Birkkjaer with crisp changes of direction, mid-leap mind you, in her solo. Dores André and Max Cauthorn brought impish high spirits to the third movement before Henry Sidford and Jennifer Stahl kicked off the final section with spritely command.
(L to R) Elizabeth Mateer, Anatalia Hordov and Tyla Steinbach backed by the corps de ballet in George Balanchine's Symphony in C
That last movement becomes a sort of balletic relay race as the tempo speeds up and teams of dancers from each of the proceeding movements dash onstage, performing brief flashes of intricate movement before ceding the stage to the next team. And there are delicious moments of unison dancing for the leading ballerinas, and then the leading men, that allow us the pleasure of watching these artists dance in synch with each other while still expressing their individuality. When the ballet ends with a celebratory whoosh of all 52 dancers filling the stage tutu to tutu in a kaleidoscope of geometry, jumping and twirling in delight, it is a distillation of pure joy.
[All photos by Erik Tomasson]
Live performances of San Francisco Ballet's Program 1 continue through Saturday, February 12th at the War Memorial Opera House, 301 Van Ness Avenue, San Francisco, CA. Running time is approximately 2:40, including two intermissions. Proof of full COVID vaccination and wearing of masks while in the building are required. For tickets and additional information, visit www.sfballet.org or call (415) 865-2000, MF 10am-4pm.