Home services
Sister Dana sez, "Pleased LGBTQ PRIDE WEEKEND to everybody!" – San Francisco Bay Instances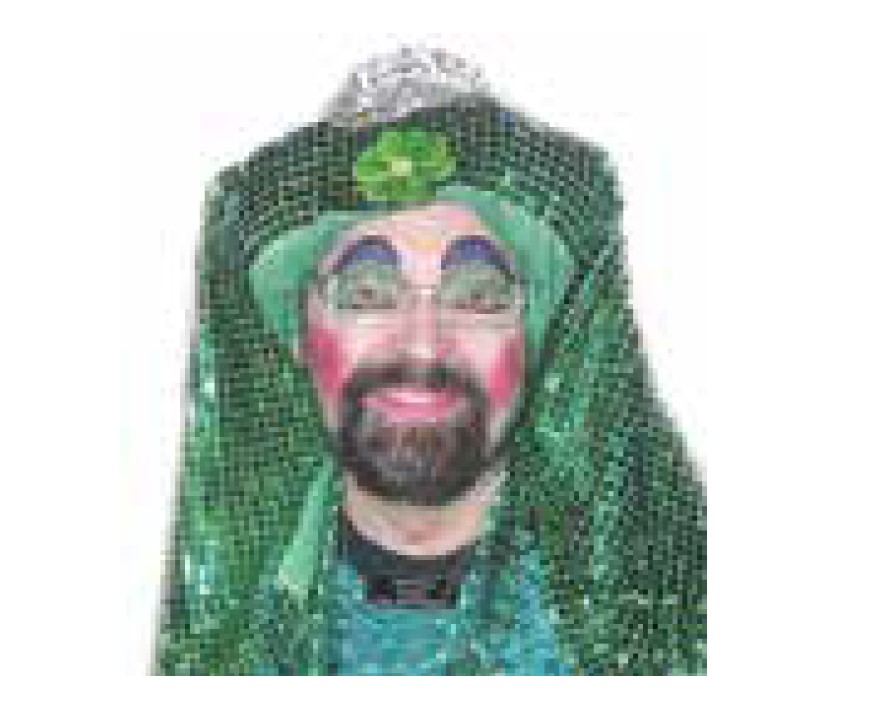 Words of Wisdumb from a Fun Nun–
By Sister Dana Van Iquity–
Sister Dana sez, "Happy LGBTQ PRIDE WEEKEND to everyone! I look forward to once again sitting atop the SF Bay Times open-top vehicle wearing rainbow nun habit to wave fervently, flash peace signs, and blow kisses to the crowd along the parade route! See you there!"
GAY PRIDE 1985 was the day I became a member of THE SISTERS OF PERPETUAL INDULGENCE, and I will forever treasure that beautiful day! This will be my 37th year happily serving with The San Francisco Order of SPI.
Devlin Shand, Fadi Salahand Erika Pappas have created QUEER AF (Queer Arts Featured) on the historic site of Harvey Milk's former camera shop, 575 Castro Street—to serve the queer arts community in the SF Bay Area. As a gallery, boutique, and gathering space, Queer AF will feature art across all mediums, with a focus on the work of underrepresented, disenfranchised, and emerging local Queer artists and makers while minimizing financial barriers. They strive to keep The Castro Queer AF They held their grand opening party on June 10. I was particularly drawn (no pun intended) to the graphite works of Louis Felipe because of their erotic quality. https://www.queerartsfeatured.com/
Sister Dana sez, "The astonishing JANUARY 6th INSURRECTION HEARINGS were broadcast on every major news station but Fox-TV news. Great! So, the very viewers who really and truly should have seen that coverage were purposely deprived!"
Vice Chair Liz Cheney brilliantly exhorted at the beginning of the hearing: "I say this to my Republican colleagues who are defending the indefensible: There will come a day when Donald Trump is gone; but your dishonor will remain!"
LUNA RIENNE GALLERY held a stunning opening reception on June 11 to display SOWING SEEDSfeaturing originals and reproductions of selected works by urban contemporary artist Norm "Nomzee" Maxwell (1969-2016). Created between the years of 2002–2015, these works are among his most colorful and positive—reflecting his growing family, fond memories of his Philadelphia youth, and metaphysical aspirations. Despite his passing, his work remains not only relevant but also visionary. My fave is mos' def' "Pop On A Platter: Beyoncé Lisa (2010)," Maxwell's Giclee print on canvas interpretation of the pop diva as the famous Mona Lisa. Maxell's works, as well as many other artists' pieces, are now on exhibition at 3318 22nd Street (@ Valencia). https://lunarienne.com/art/
President Joe Biden signed to EXECUTIVE ORDER on June 15 aimed at protecting LGBTQ people from a cascade of legislation in conservative states that increasingly targets the rights of gays, lesbians, transgender youth, and others. The order is designed to counter efforts by Republican politicians like Gov. Ron DeSantis of Florida, who has pushed through a measure—the "Don't Say Gay" law—banning teachers from providing instruction regarding gender identity or sexual orientation. Other laws passed in conservative states include prohibitions on transgender girls competing in high school sports and efforts to ban the provision of gender-affirming care. White House officials have called the new laws "un-American" and said they are designed to discriminate against families and children based on their sexual orientation or gender identity.
Sister Dana sez, "Uvalde. Buffalo. El Paso. Dayton. Gilroy. pulses santa fe park land Sutherland Springs. Las Vegas. Sandy Hook. aurora. Virginia Tech. columbine Many others. How many more Americans must be massacred by assault rifles until Congress gets these weapons of war off our streets? Other countries have taken decisive action to ban assault rifles and have seen drastic reductions in gun violence. We MUST do the same!"
On June 11, more than 450 rallies were staged nationwide in the MARCH FOR OUR LIVES gun reforms demonstrations—including one in SF and another in Oakland.
President Joe Biden has officially declared JUNETEENTH as a federal holiday, commemorating the emancipation of enslaved African Americans. It is also often observed for celebrating African-American culture. Originating in Galveston, Texas, it has been celebrated annually on June 19 in various parts of the United States since 1865. "Juneteenth" was definitely observed joyously all over the Bay Area this year.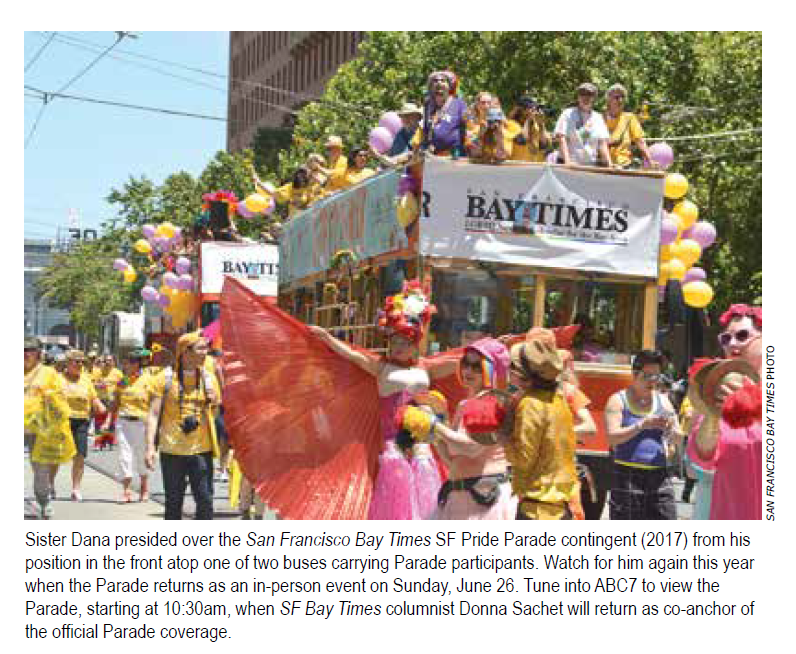 Mayor London N. Breed joined elected and city officials and community members on June 19 to kick off a series of community-led events to honor the Juneteenth holiday in San Francisco. Following President Joe Biden's 2021 resolution declaring Juneteenth a federal holiday, Mayor Breed signed an order declaring June 19 an official holiday in San Francisco. "Juneteenth is a recognition of our culture and accomplishments, but it's also a solemn reminder of the bonds of slavery and the struggle for equality that continues today," said Mayor Breed. "For years, San Francisco's Black community has commemorated this day through celebrations across our city, but this year is special as it is the first time we are coming together to celebrate Juneteenth as an official holiday. I want to thank the community and our city leaders who continue to put in the work to ensure that Black San Franciscans have an opportunity to thrive."
Gary Virginia and Donna Sachet's PRIDE BRUNCH is back, in person! Marking its 24th year, this annual celebration of all things Pride during SF's Pride Weekend returns to the beautiful Westin St. Francis Hotel, 355 Powell Street on Saturday, June 25, 11 am–2 pm—including a three-course meal, hosted bar , and a joyous commemoration of the PRIDE PARADE's Grand Marshals and a coming together three years in the making. All proceeds from this LOVE IS IN THE AIR fundraiser support PRC's lifesaving, integrated social, legal, and behavioral health services that help San Francisco's most vulnerable populations struggling with HIV-AIDS, substance use, and mental health issues. Services help over 5,000 clients annually on their path toward stability and better health and financial outcomes. https://tinyurl.com/2bmndf95
THE SAN FRANCISCO TRANS MARCH —San Francisco's largest transgender Pride event and one of the largest trans events in the entire world is always the Friday of Pride weekend, and thousands of people attend. It's June 24, 6 pm in Dolores Park (Dolores and 18th Streets) for the street march, which is approximately a 45-minute walk. Bring signs, banners, posters, megaphones—you know the drill. Earlier activities begin at 10:30 am throughout the day. https://www.transmarch.org/
THE SAN FRANCISCO DYKE MARCH is marching at 5 pm on June 25 at the intersection of Dolores Street and 18th Street in San Francisco. No rally in Dolores Park is planned before hand. https://www.thedykemarch.org/
Congratulations go to "A STRANGE LOOP," an irreverent, sexually frank work about Blackness and queerness winning Best New Musical at the TONY AWARDS onJune 12. Michael R Jackson's 2020 Pulitzer Prize drama winner is all about a black gay man writing a show about a black gay man. Jackson also won for best book. Sister Dana sez, "Oh, we GOTTA go catch this winner when it comes to the Bay Area—which it hopefully will do!"
THE VINE SING ALONG PRIDE MASS at Grace Cathedral was back! We belted out our favorite queer anthems in an utterly rainbow-covered cathedral. I was, of course, Sister Dana the rainbow nun, along with many other fellow SPI nuns. This year's theme was "Family Values." We decided the Religious Right shouldn't have all the fun, so we leaned-in hard to celebrate the joy, resilience, and struggle of what it means for our LGBTQ community to be family. We heard an inspiring message from the Rev Dr Cameron Partridge—a justice warrior, theologian, and openly transgender man. He has taught at Harvard University, spoken at Why Christian, and currently serves as Rector to St. Aidan's Episcopal Church in SF. After the service, we all enjoyed rainbow cake!
Juanita MORE!'s 18th annual PRIDE PARTY is June 26, noon to 7 pm, 620 Jones Street. Miss MORE! continues to raise the bar with this annual nonprofit Pride extravaganza. It focuses on supporting some of SF's most impactful organizations. Over the years, Juanita's efforts have raised over $1 million dollars for the LGBTQ community. With the donations raised through this year's party, Q FOUNDATION will use those contributions to continue their important work throughout San Francisco and spearhead new initiatives which include acquiring residential real estate. Q Foundation is the home for homelessness prevention and rapid re-housing services for the LGBTQIA, and members of the HIV+ communities. They provide advocacy leadership at the national, state, and local levels and direct services to thousands of San Francisco residents. https://juanitamore.com/pride
SAN FRANCISCO PLAYHOUSE (Artistic Director Bill English; Producing Director Susi Damilano) announces FOLLIES by James Goldman other Stephen Sondheim. The musical will run on the San Francisco Playhouse main stage, 450 Post Street, from June 30 through September 10. Originally slated for the Playhouse's 2019/20 Season and canceled due to COVID-19, the show marks the first fully staged professional production of Follies in San Francisco. The musical, which won seven Tony Awards in 1972 and has been heralded by The New York Times as "one of the greatest musicals ever written," closed on Broadway after 522 performances and never went on a national tour. So, now's our chance! https://tinyurl.com/yzdfkxpc
On Saturday, July 9, join the summer fun around the Eagle Plaza, on 12th Street, between Folsom and Harrison for the next SOMA SECOND SATURDAYS. The first weekly Eagle Plaza Farmers Market will be open from 9 am – 12:30 pm. SOMA Second Saturday brings out our local, community Artists and Craftspeople. https://tinyurl.com/2zaj7y57
Sister Dana sez, "As you march in the parade or are in the crowd cheering, be sure to look up and notice the gorgeous PINK TRIANGLE way up in Twin Peaks! And when the sun goes down, the pink triangle lights up in all its glory!"
Published on June 22, 2022