HVAC
Tesla to look into including AI-based HVAC system

357 days since announcement
October 4, 2021
By Nuno Christovao
Elon has said various times that Tesla is not a car company, but rather an AI company. Tesla is using AI to solve problems such as auto high beams, auto wipers and of course FSD. Tesla's tango with AI explains its recent move into robotics.
Solving FSD is just the beginning. We're likely to see Tesla enter additional fields that rely heavily on AI. Tesla will be able to take everything they've learned in the world of artificial intelligence and apply it to a completely new product or even a new field, similar to what they're doing with NeuraLink.
Elon has previously talked about how he would love for Tesla to develop air conditioning systems. Elon believes Tesla can make them much more efficient than they are today, but Tesla just doesn't have the resources to enter another field right now. The use of air conditioning around the world currently accounts for 10% of global electricity usage, according to IEA.
Tesla may now be looking to introduce AI to Tesla HVAC systems. Twitter user @coffeetabletsla asked Elon if Tesla could develop a neural network similar to Deep Rain that's used for windshield wipers, but instead use it to improve air conditioning. It could monitor when to turn the AC on/off, when to circulate air versus bringing in fresh outside air and take into account various factors such as current air quality, traffic and dirt roads.
In response, Elon gave his typical "Ok" answer, which has usually meant that Tesla is already working on a similar feature or that Elon is genuinely intrigued by the idea and will have Tesla engineers evaluate its feasibility.
Given Elon's fascination with air conditioning and wanting to reduce the world's energy footprint, this could be Tesla's first entry into the HVAC industry.
This conversation started on Twitter when the official Tesla account tweeted "can we all just agree that pumping out carbon monoxide, carbon dioxide, particulate matter, nitrogen oxide and sulfur dioxide from cars on all the streets around the world is maybe a bad idea".
OK
— Elon Musk (@elonmusk) September 26, 2021
Elon replied to the Tesla account with "in close traffic, poisonous gas spewing from the car in front of you goes straight into your AC intake." A fair point. We're just hurting ourselves. He then snarkily added that "Good thing gas /diesel carmakers didn't cheat on their emissions or we'd be in real trouble."
Air quality is also something Elon has shown interest in before. In fact, Teslas in China show the Air Quality Index right next to the temperature near the top portion of the car's screen.
In close traffic, poisonous gas spewing from the car in front of you goes straight into your AC intake. Good thing gas/diesel carmakers didn't cheat on their emissions or we'd be in real trouble ?
— Elon Musk (@elonmusk) September 4, 2019
Teslas currently have an Auto AC button that determines when to activate the air conditioning system, although it's likely to be similar to other manufacturers where it compares the indoor and outdoor temperatures along with the relative humidity of each environment.
By adding AI to air conditioning not only Tesla can reduce its energy usage, resulting in longer range for your Tesla, but it could also give you cleaner air to breathe. Your Tesla can give you fresh air when you're driving alone on the road, and automatically switch to recirculated air when you're close to other cars.
This is just another example of how Tesla is redefining cars and improving the world we live in.


September 26, 2022
By Kevin Armstrong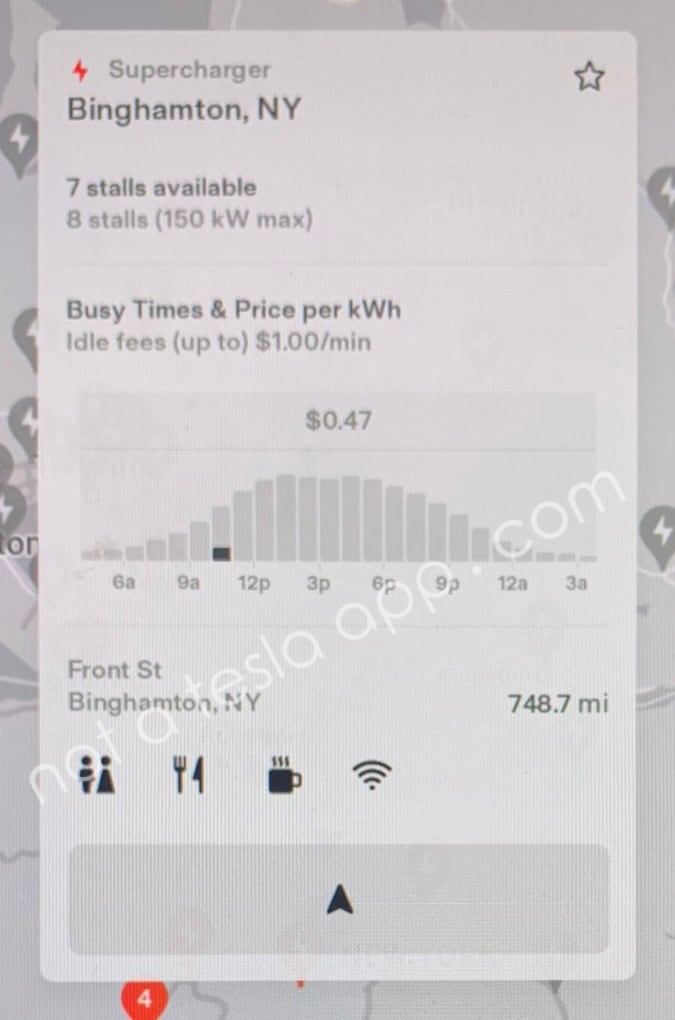 In addition to a new energy app, Tesla's newest update 2022.36 includes a redesigned Supercharger map popup.
As Tesla continues to expand its Supercharger network, which stands at 35,000 and counting, more people are relying on this technology as part of their road trips, commutes, and daily lives.
In addition to the Supercharger map showing the distance to the sites and how many stalls are available, Tesla has added historical site occupancy and the charging fees. Similar to the feature when searching businesses on Google, Tesla now shows how busy the chargers are at any given time in the day.
Since Tesla is switching to charging rates that vary depending on the time of day in many areas, this change also makes it easier to see the price per kW.
This update provides a significant piece of information for those planning road trips. Now, you can determine the best times to arrive at a Supercharger station.
Users can still see the maximum power at Supercharger stations, another valuable piece of information for those wanting to hit the higher output stations and have less time off the road. Also, additional information is displayed for services in the area by simply tapping on the location of the Supercharger station. For example, users can find restaurants, rest stops, Wi-Fi and other amenities. This type of extra information is helpful for users and provides some increased customer traffic for surrounding businesses.
Tap the amenity icons in any Supercharger pop-up to find nearby restaurants, stores, and coffee shops. pic.twitter.com/4usUn8gGqG
— Tesla Charging (@TeslaCharging) August 29, 2022
Tesla's long-term vision for Superchargers is to leverage Powerwalls and solar energy to make charging efficient, while also making it comfortable and convenient through the use of Starlink-equipped Superchargers and providing nearby amenities.
Tesla's first v4 Supercharger is expected to open in Arizona soon with improved charging rates and a newly redesigned Supercharger cabinet.
The new Supercharger popup is one of several new features. You can view additional features in the 2022.36 release notes.
September 24, 2022
By Kevin Armstrong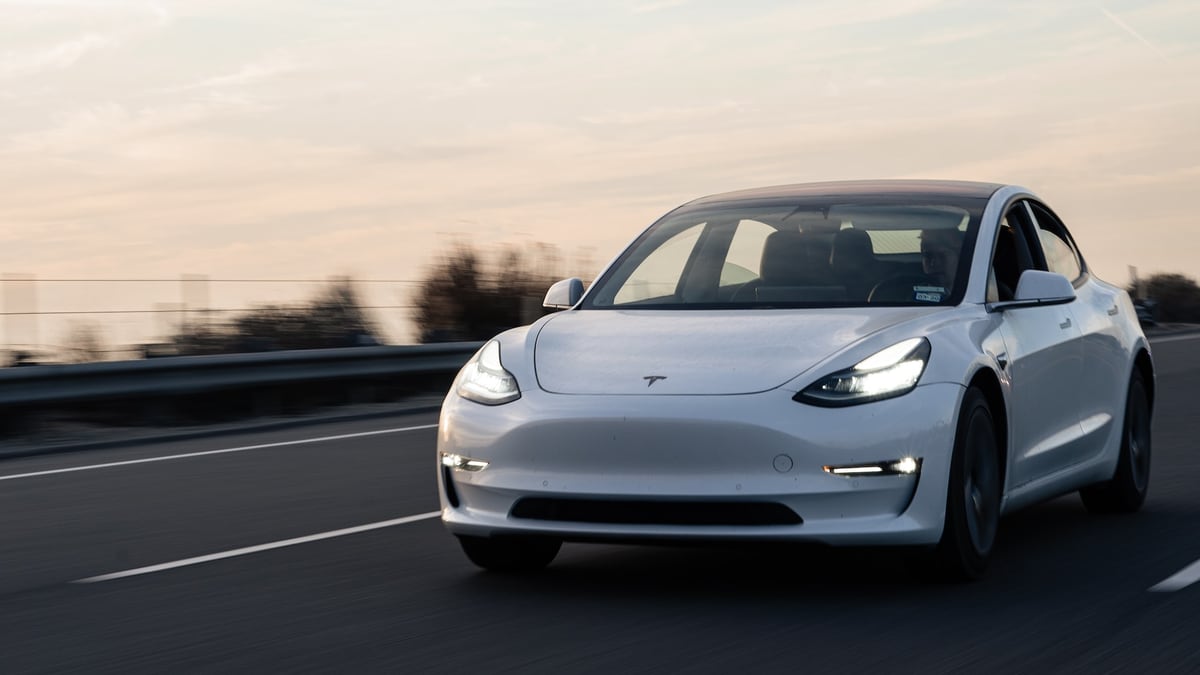 Tesla will soon send an over-the-air update to address the Automatic Window Reversal System. During product testing in mid-August, the company's technicians detected the system varied in response to obstructions in the window path. After more testing, Tesla concluded that it would notify the National Highway Traffic Safety Administration (NHTSA) of a voluntary recall to address the issue.
The majority of Tesla's recalls are much different than traditional automotive recalls. Tesla owners don't have to schedule an appointment and bring the vehicle to a service department. Instead, the company will update nearly 1.1 million Teslas using an over-the-air update. However, several news organizations picked up the recall, some linking it to the lower stock price when the market closed. Elon Musk tweeted: The terminology is outdated & inaccurate. This is a tiny over-the-air software update. To the best of our knowledge, there have been no injuries.
The recall and Musk's tweet generated a lot of discussions on social media and in comments below articles on news websites. What Tesla is doing is not a recall in traditional terms. However, it is the only course of action available to the company in the current system to notify the government and owners of required changes.
With more of the automotive industry following Tesla's lead, the recall term will be misleading as most fixes to electric vehicles should be conducted through updates, not physically bringing the car to a service center to change parts. A more fitting term that should replace recall in this new EV world should be: update. The headlines would read, Tesla is Updating its Automatic Window Reversal System. That is much more accurate to what is happening. It should surprise no one that Tesla does not fit the archaic terminology used by the industry.
In a report filed with the NHTSA, Tesla states that it "is not aware of any warranty claims, field reports, crashed, injuries or deaths related to this condition." However, starting September 13, the company started updating vehicles' firmware in pre-delivery and one production line. This change came one day after notifying the federal authorities about the voluntary recall. The over-the-air update will go to Model Xs, and Model Ss built between 2021 and 2022; Model Ys produced from 2020 to 2022 and Model 3s dating back to when the car first hit the market in 2017.