Plumbing
Amgen opens South San Francisco places of work | Native Information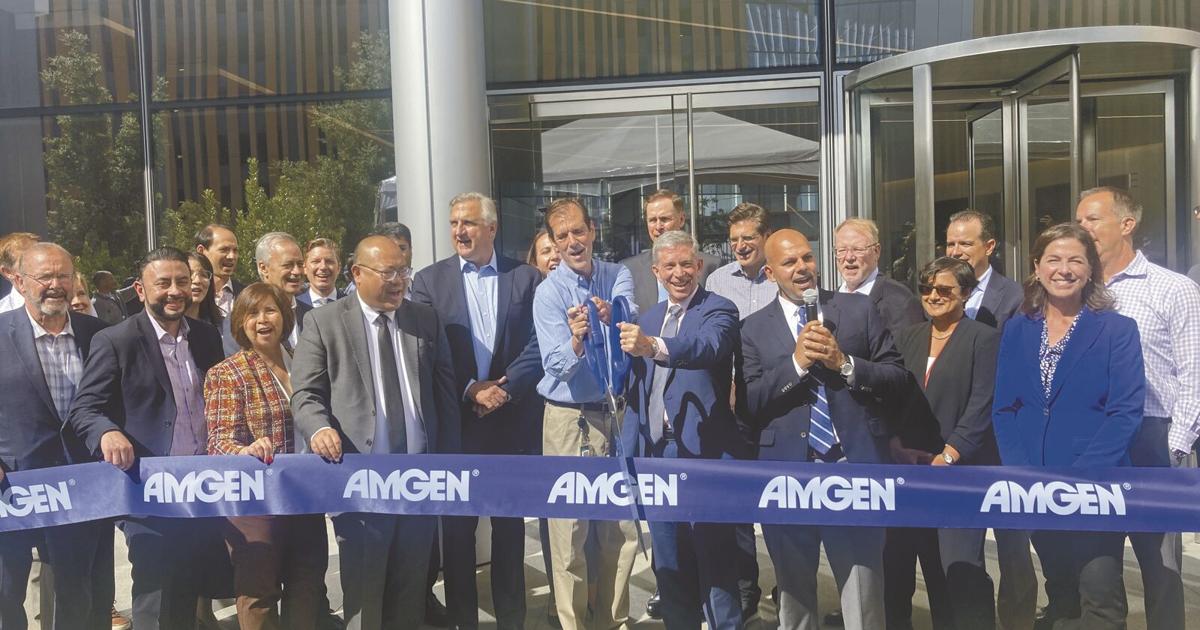 South San Francisco's biotech corridor continues to grow, with biopharmaceutical company Amgen opening its long-anticipated 245,000-square-foot building that will bring 650 workers to its new Gateway Boulevard location.
"This commitment and this building build on our nearly 20 years of history in this part of the city," Amgen CEO Bob Bradway said at an Oct. 6 grand opening ceremony.
State Sen. Josh Becker, D-San Mateo, praised the company for its investment in the industry and South San Francisco, noting the company plays a large role in developing the therapeutic research and solutions needed to save lives and improve quality of life. Becker said the company had a history of philanthropic donations and being active in community programs. He presented Amgen with a certificate of recognition from the California Senate for the grand opening.
"Along with the city of South San Francisco and the region, we are glad to have this new facility," Becker said.
The research and development site at 750 Gateway Blvd., in the Gateway of Pacific campus, is nine stories and near several other large biotech companies: including Abbvie and Thermo Fisher Scientific. In 2019, Amgen announced it had signed a lease with BioMed Realty for the property as it looked to expand and grow. The building will focus on research for cardiometabolic, inflammation and oncology, with several modular labs and open workspaces available. The new site is the company's second-largest research and development facility, behind the Amgen headquarters in Thousand Oaks. Sustainability remains a focus, and the building has been designated a Leadership in Energy and Environmental Design, an environmental certification recognizing good sustainable buildings. The company said it designed the building to meet its environmental sustainability goals of becoming carbon neutral by 2027 and be an open workspace to foster collaboration.
Amgen has had a smaller presence at its Veterans Boulevard location that has been around since 2004. According to an Amgen spokesperson, the site will be decommissioned and returned to the landlord. Amgen was founded in 1980 and is one of the world's largest biotech companies.
South San Francisco Mayor Mark Nagales issued a city proclamation that Oct. 6 would be "Amgen Day" in South San Francisco for its essential community work and its involvement at Oyster Point since 2004. The company donated to the Community Civic Campus Program opening in 2023. The campus will house the city's future library, community theater, Law Enforcement Dispatch Center and City Council Chambers.
"On behalf of the entire City Council, thank you for giving back, and we are proud to have you be part of the city of South San Francisco," the mayor said.
Nagales noted the city housed more than 200 biotech companies and more than 12 million square feet of research and development facilities, with an additional 9 million square feet of facilities in the development pipeline.
"We are the largest biotech center in the world, and we are the birthplace of biotech," Nagales said. "Those two things are proving to be a magnet for biotech companies to establish or relocate here. You are right where you belong."
Bradway noted that more than 700 million people living over the age of 65 are facing challenges of diseases around cancer and heart disease. He said the innovation in the new building would try addressing those diseases, with the move years in the making and marking an excellent time for the company and industry.
"We are excited about the opportunities that we see here," Bradway said.
David Reese, executive vice president of Research and Development with Amgen, said the company had made several significant discoveries in South San Francisco over the decades and was hopeful of making more. Reese said the industry was in a hinge moment in understanding human biology and disease and developing the tools to address them.
curtis@smdailyjournal.com
(650) 344-5200 ext. 102