Moving
Reside Updates: ASU vs. San Francisco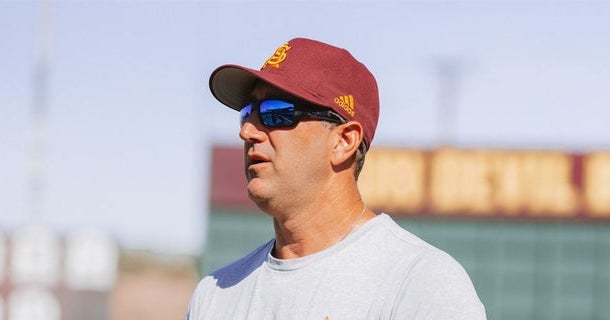 (Photo: 247Sports)
BOTTOM 4
— Rogers swings at the first pitch from Lombard and powers it over the left field wall to answer the Dons' home run in the previous half-inning and bring the Sun Devils within one. Score: 2-1 San Francisco
ITEM 4
— Luckham bounces back from Knell's bomb to strike out the next two batters and end his fourth inning of work. Score: 2-0 San Francisco
— The Dons' Kyle Knell yanks a home run over the left field wall off Luckham to extend the Sun Devil deficit to two.
BOTTOM 3
— Lombard tosses another quick inning and is through three with no runs and just one hit given up to ASU. Score: 1-0 San Francisco
ITEM 3
— A Luckham strikeout and 6-3 double play coordinated by McLain keeps ASU's deficit to one. Score: 1-0 San Francisco
BOTTOM 2
— ASU freshman second baseman Cam Magee walked to put two on, but Lampe struck out and McLain flied out to center to mark more empty at-bats with runners in scoring position. Score: 1-0 San Francisco
— The Sun Devils' sophomore right fielder Kai Murphy draws another free bag for the team before tagging up on a warning track flyout from freshman designated hitter Ivan Brethowr.
ITEM 2
— Despite getting another two quick outs to start his second inning, Luckham is the first pitcher to surrender a run following three straight singles from San Francisco. Score: 1-0 San Francisco
BOTTOM 1
— ASU's sixth-year first baseman Conor Davis strikes out but sophomore catcher Nate Baez draws his team's second walk of the inning to load the bases up for freshman left fielder Will Rogers. Rogers battles in a long at-bat with San Francisco's starting southpaw Weston Lombard, but Lombard picks up the strikeout to escape the run-scoring opportunity for the Sun Devils. Score: 0-0
— The Sun Devils' sophomore center fielder Joe Lampe smacks leadoff double into left-center gap and sophomore shortstop Sean McLain follows up with a four-pitch walk. Sophomore third baseman Ethan Long beats out double play ball to advance Lampe to third.
ITEM 1
— ASU's starter Kyle Luckham races through the opening frame, putting down San Francisco's first three batters in just five pitches. Score: 0-0
PREGAME NOTES
— Arizona State baseball (6-9) seeks to create momentum coming off its 8-5 Friday win over San Francisco (10-6), as the series' second game is set for a Saturday evening start. First pitch is slated for 6:00 pm AZT.
— ASU's typical Saturday starter, junior right-handed pitcher Kyle Luckham, is set to take the mound for the Sun Devils in their second game against the Dons. Luckham has done an excellent job of pounding the zone in his appearances this season, walking just four batters and hitting one through 17 innings pitched. The Cal State Fullerton transfer enters Saturday with a 3.18 ERA.
— With the Sun Devils' starting shortstop, sophomore Hunter Haas, out at least a few more weeks with a rotator cuff injury, which led to sophomore Sean McLain's move to shortstop from second base, freshman Alex Champagne's hand injury from Friday's San Francisco game puts another middle infielder in doubt, leaving ASU with McLain and freshman Cam Magee as the team's lone middle infield options moving forward.
ASU Starting Lineup:
1. Joe Lamp CF
2. Sean McLain SS
3. Ethan Long 3B
4. Conor Davis 1B
5. Nate Baez C
6. Will Rogers LF
7.Kai Murphy RF
8. Ivan Brethowr DH
9. Cam Magee 2B
— San Francisco's senior southpaw Weston Lombard will be making his fourth start this season on Saturday. Lombard totaled 14.1 innings pitched through his first three outings, marked by a notably low 1.88 ERA. Lombard has also held opposing batters to a collectively low .140 batting average.
San Francisco Starting Lineup:
1. Jordan Vujovich DH
2. Luke Keaschall SS
3.Harris Williams III RF
4.Mario Demera 3B
5. Nick Yovetich CF
6. Michael Campagna C
7.Christian Stapleton 1B
8. Brandon Greim 2B
9. Darius Foster LF