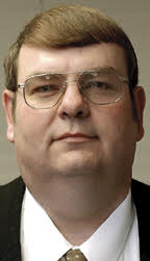 By DR. TERRY COOMER
Recently, I watched the movie Invincible. It was about the life of Vince Papale who grew up on the south side of Philadelphia and played tackle football (without pads on) with his grade school to high school friends.
When Dick Vermeil became the football coach of the Philadelphia Eagles in 1976, the Eagles were in the midst of several losing seasons. He called for an open tryout of men in Philadelphia. He wanted to let the veterans know he expected some growing up and toughing up! Thirty-year-old Vince Papale tried out. He was the only player from many trying out that made the team! In the try out, Papale ran a 4.5 second 40-yard dash! That was fast and that got Vermeil's attention. Each week Papale and his friends, who were lifelong friends, to now grown men, played tackle football each week on a park field. They played in the rain, cold, and all the elements. Papale and his friends lined up each week to beat the tar out of each other! These were tough guys! Papale went on to play three seasons with the Eagles. Unheard of! As I watched the film I told my wife Kim, who grew up on the northside of Noblesville, "Wow, that reminds me of the old Southside Park in Noblesville!"
From the 1950s until Jan. 1, 1991, the boys from the Old Southside of Noblesville played whatever sport was in season. I am going to apologize up front if I forget anybody's name or I did not remember their contribution.
I can tell you one thing, these boys were tough and yes, we played tackle football without pads! There were some sprains, broken bones, some blood on the shirts, and extra-curricular activity after the plays! The boys of the Old Southside also made their marks on Noblesville High School sports as well. The playground of learning was Old Southside Park.
When I think of the Old Southside Park, the first name that comes to my mind was Jimmy Camp. The camp boys were all tough kids, but Jimmy was an outstanding athlete. He was fast, played hard and gave it all he had. He was a great football player at Noblesville High School and held some records for quite a while. His brothers and cousins ​​were tough and good athletes too!
I remember a tackle football game that was precipitated by the Bradfield boys and the Camp boys. We chose up sides and it was tackle football at its best! Jim Belden and Phil Shelby would have been proud! We lined up and hit each other. There was some vicious tackling, great blocks, and some great drawn up offensive plays. You know you go left; you go right, and I will hit you over the middle and heaven help the kid who caught the ball!
Some of the guys who played sports that I remember were: Denny Russ, Ray Dixon, Jim Tittle, Tom and Tim Netherly, Genie Bradfield, Bertie and Sammy Camp and (Camp cousins ​​and brothers), Joe and Donnie McKinley, the Schoolcraft boys ( several of them), Jimmy Atwell, Steve Coverdale, Randy Hatfield, Steve King, Larry and Theron Howard, Tom and Bill Cowart, Roger and Tommy Tharp, Danny Gray, Larry Castetter, Larry Stidham, Gary Holt, Sam Jamison, and Dennis Hampton to mention a few.
I am very thankful for all the guys who played at Southside Park. They challenged me! In the summer we played baseball daily. Hit one into Fourth Street on the fly and it was a home run! Mr. Lockridge had a fence around his garden in center field. The only house in Southside Park itself. Let's just say when we jumped the fence to get the ball and got into his garden he wasn't amused! Sometimes we even got a tomato or two!
I learned to play baseball, basketball, and football from these guys, and I got a lot better playing against the older boys. Jimmy Atwell, who lived one house down from me, and I made a pitching mound right off Fourth Street and put a home plate right in front of Mr. Lockridge's fence to stop the ball when we missed it! Jimmy and I threw for hours at a time to each other. When we threw to each other, we would put the glove at a certain place. So, it wasn't a strike if it didn't hit the glove spot. We made it a game! Jimmy ended up being a pretty good pitcher and athlete at NHS. I ended up being drafted by the San Francisco Giants as the 78th player taken in the 1973 Major League Baseball draft, the first player from Indiana taken that year. We won the Advanced Babe Ruth Indiana State Championship and some of the players from the Old Southside played in 1969 (Noblesville's population was 7,548) on the first baseball team ever in Noblesville High School history to win the baseball sectional. Larry Howard pitched for NHS and did a fantastic job! You got it, Larry was from the Old Southside of Noblesville!
Just after Christmas 1990 on New Year's Eve 1990 and New Year's Day 1991 everything changed for the Old Southside of Noblesville. A devastating flood took place. Everyone had to evacuate their homes if you lived west of Fifth Street. It was a 100-year flood per the National Weather Service. The weather service says White River crested around midnight Dec. 31.1990 at 21 feet, with 14 feet being flood stage. There were about 4 to 8 inches of snow on the ground. Some of the flood waters froze due to the bitter cold. My dad lived on Fourth Street and on the afternoon of Dec. 30, the Noblesville Police came to tell him to evacuate. He called me and I went to help. His house was destroyed after living there since 1951.
On the morning of Jan. 1, 1991, the Old Southside was changed forever. Many houses were destroyed. Everyone that lived below the hill had their home totally flooded. My father's home had water inside to the top of the windows. All the people, many who had grown up there, and others who had lived there for years, stood on the top of the hill, at Fifth and Washington Street, and looked at the devastation below. Many of us boys and girls who were now men and women looked below at their lives washed away by the flooding of White River. Friends who had not seen each other for years, wept and hugged each other that day and the boys and girls from the Old Southside were coming to the aid of their parents and grandparents who had made their lives around Southside Park. Memories were shared and friendships were revisited from years gone by.
Yes, there were heroics that day. We were told that the gas company had turned off the gas to the homes. I noticed smoke coming from my father's chimney and mentioned it to a fireman, Mr Reddick. He took a boat down and I gave him the keys to the house. He got in somehow and said the gas wasn't off and the water was hitting the heating unit. He said, "It will blow soon." My childhood friend, and neighbor one house down, Gary Holt, one of the boys of the Old Southside, did some heroics. Gary at that time owned his own heating and cooling company asked me where the gas meter was, and I told him. He went down in a boat with a fireman. He had to go underwater to get to it, but he turned off the gas and saved what was left of the house and probably others. The Noblesville fireman, Mr. Reddick, courageous as he was, contacted the gas company immediately to get them to turn off gas to the area. Obviously, it could have been a lot worse! Some of the Noblesville firemen and police officers watched from the hill with us and sought to help the elderly and comfort people. We greatly appreciated their help and kindness.
As we tried to clean up and sort through items in the houses, I was hauling carpets out to a dumpster and standing at our sidewalk was Bob Harber, fifth grade teacher at Third Ward School, who was in tears looking at me. He volunteered to go through the neighborhood for the Red Cross and give cleaners, buckets, and mops. If you needed something, you told Bob, and he would try to get it for you. We did not have water, electricity or heat and it was cold! We found what we could to heat, but Bob Harber was another hero for the folks of the Old Southside with words of comfort and showing compassion for all that were hurting. After all, he had taught most of the boys and girls from the Old Southside at Third Ward School. He knew all the boys of the Old Southside as he referred our murder ball games every day at recess, and we had some wicked murder ball games! We could really throw the ball! When you got hit it rattled you!
The city of Noblesville got grants and the first buy of houses from the owners of 44 homes were purchased. Other homes were purchased later. I remember signing the papers for my father who was seriously ill. It stated, "that no one could put a house back on the property. It would be torn down and would become part of the park area." I was sad as I signed those papers that day knew because I a way of life was over.
While there are a few homes still there in the area, the neighborhood as it had been known for all those years was now over. Thankfully, Old Southside Park is still there, and some children still play there today. Any time I am back in Noblesville, I drive down there and look at where my parents' home and my friends' homes were. There is still a tree in the yard that my father and I planted together when I was a young boy 60 years ago. I always sit there and look for things I remember, especially that tree. I look out over the old Southside Park and think about the Boys of the Old Southside.
I will never forget the boys of the Old Southside, the sports we played, and how much fun and good times we had down there in the Old Southside of Noblesville.
You can reach Dr. Terry Coomer at [email protected]